This colorful, flowery craft may be more suitable for older students due to the cutting and preparation required.
What You Need:
Paper plates, one per student
Egg cartons, one per student
Scissors
Green paint
Paint in various spring colors
Paint brushes
9 x 12-inch construction paper in any colors, one sheet per student
Craft glue
Optional: Buttons, pom poms, scrapbook paper, or other decorating supplies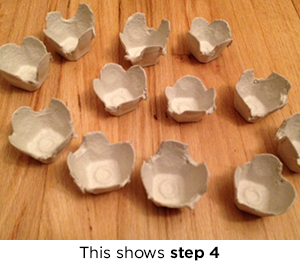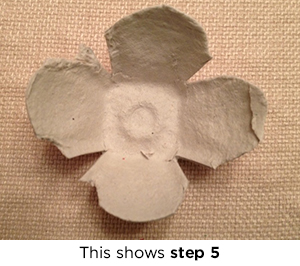 What You Do:
Have your students cut out the center of the paper plate, leaving just a ring. An easy way to start is by folding the paper plate in half.
After placing the paper plate ring upside down on a piece of construction paper, the students should paint the ring green. Set the rings aside to dry.
Now your students should cut their egg cartons into 12 separate cups.
Help your students trim the top of each egg carton cup to resemble rounded petals, as shown.
The students should now cut a small slit between each petal on each cup. Have your students gently bend back the petals so they fan out. The egg carton cups should now resemble flowers, as pictured.
Have your students paint their egg cup flowers with different colors, making sure to paint the inside and outside of the flowers. Set the egg cups aside to dry.
When the flowers and the ring are dry, your students can glue the flowers in a circle around the ring.
Optional Extension
Your students can add whimsical decorations to their flower wreaths! Gluing buttons, pom poms, or bits of scrapbook paper to the middle of each flower is a sweet finishing touch.