Students craft pumpkins charming enough to be given as gifts.
What You Need:
Scissors

Flexible dryer duct (about 16–20 inches per student)

Glue gun and glue

Orange paint

Paintbrushes

Toilet paper tubes (one per student)

Craft glue and school glue

Green construction paper

Brown paint or felt (optional)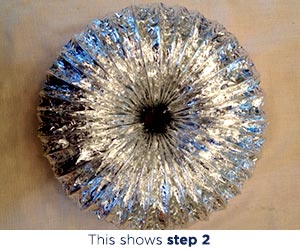 What You Do:
Cut a piece of flexible dryer duct, about 16 to 20 inches, for each student.
Create a circular shape for the pumpkin by connecting the two ends of the dryer duct together with hot glue. Hold until it is secure. (Hot glue dries quickly.)
Have students paint the entire pumpkin orange. Set it aside and allow it to dry.
Push a toilet paper tube down into the center of the pumpkin and secure it with either craft glue or hot glue, making sure it's tucked in securely. You may want to trim it slightly.
Have students cut a leaf shape from the green construction paper and then glue it to the toilet paper tube.
Tip: If the pumpkin will be a gift, you may suggest students paint the toilet paper tube brown or wrap it in brown felt before placing it in the center if the pumpkin.