This simple, inexpensive craft offers a great way to display students' names.
What You Need:
White construction paper, one 12- by 18-inch piece per student
Pencils
Black crayons
Watercolor paints
Paintbrushes
Scissors
Glue
Black construction paper, one 12- by 18-inch piece per student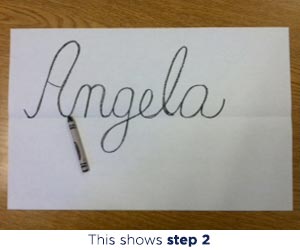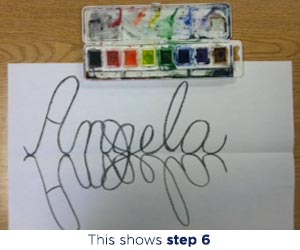 What To Do:
Students each fold a piece of white construction paper in half, lengthwise.
Using pencils, have them write their names in cursive along the crease of the paper. The letters should be large and flowing.
Children then trace over their names several times with black crayons.
Have them refold the paper.
Students then rub over the folded paper several times so that their names mirror-print on the other half of the paper.
When they open the paper, they should retrace over the rubbing with black crayon.
With watercolors, students paint the inside of the letters (using the same color on each side of a letter), creating a mirrored look.
Children cut out their names, leaving a small amount of white space surrounding. The resulting image will resemble a large bug.
Students can glue their name "bugs" onto the black construction paper.
Optional: Students can use crayons and felt pens or colored pencils to color in the letters.
Tip: This project demonstrates symmetry, so encourage students to make both sides of the letters resemble each other.