Turn Over a New Leaf
Put away the waxed paper and Vaseline and bring out the coffee filters and markers to create a twist on autumn leaf projects. Kids can use their imagination to fashion leaves of pink and purple and mint green.
Things You'll Need
Coffee Filters
Washable Markers
Spray Bottle
Branches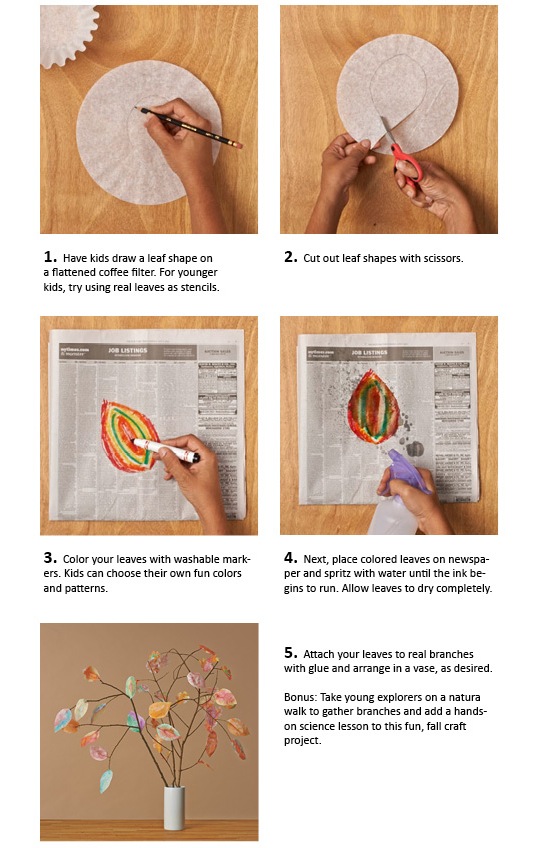 ---
Pumpkin Time!
---
Mosaic Pumpkins
Simply cut out the template and mount on card stock, ­leaving ¼-inch trim. Glue dried beans, peas, and lentils in desired pattern, and voilà,
a pumpkin of another color!
Things You'll Need
• Fall Crafts Templates (Pumpkin, Turkey, & Leaf)
Cardboard, Cardstock, or Heavy-Duty Paper
Scissors
Glue-Stick and School Glue
Dried beans, peas, seeds, lentils, etc.
1 Print out the pumpkin template and mount to cardstock, cardboard, or other heavy-duty paper with glue stick.
2 Cut out the pumpkin template. Be sure to leave a 1/4-inch margin around the outside edge for visual effect.
3 Use school glue to glue dried beans, peas, seeds, lentils, etc. (the more variety the better!) to the various sections of the template to make a mosaic. Kid's can create their own festive designs and patterns for truly unique pumpkin projects.