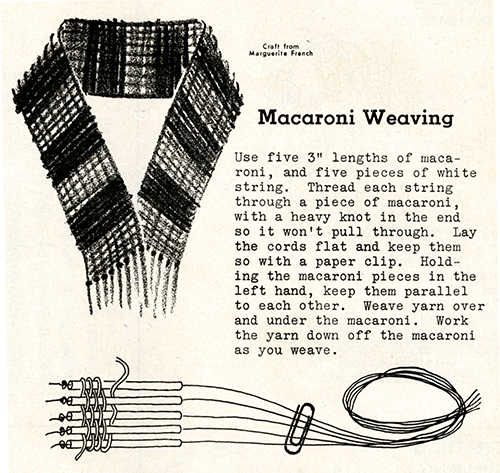 We may not teach weaving in school now, but this 1956 craft is a keeper. Students use straws and beads instead of macaroni to weave patterned masterpieces with yarn, and practice fine motor skills to boot!
Things You'll Need:
Yarn (variety of colors)
Twigs
Thick straws
Scissors
Wooden beads
Paint

What to Do:
1 | Pass out 10 thick straws and 1 sturdy twig to each student.
2 | Cut 9 pieces of yarn. The yarn pieces can be of varying or equal lengths, but all should be 2-3 inches longer than the straws.
3 | Tie the yarn strands to the twig, and thread each of the strands through a straw.
4 | Wrap a long length of yarn around your last straw to create a makeshift spool (we recommend using 2-3 feet). Tie the loose end of the yarn to the yarn strand at one end of your twig.
5 | Weave the long piece of yarn through the other 9 strands by placing it over and under alternating straws.
6 | When you reach the last straw, loop the yarn around the straw and start weaving another row. Students can continue weaving as many rows as they desire (we did 20).
7 | Remove the straws from all 9 yarn strands. Tie the piece of yarn you've been weaving through the straws to any yarn strand, and cut off any extra yarn.
8 | Tie a wooden bead to the end of each of the 9 strands. Optional: Paint the wooden beads first for an extra pop of color!
10 | To complete the project, cut one more piece of yarn to use as a hanger. Tie the ends of each piece of yarn to the ends of the twig. For a festive pop of color, hang the completed crafts on your wall!
Click Here to Subscribe to Scholastic Teacher Magazine
Photos: Adam Chinitz; Crafter: Morgan Levine; Craft Research: Pari Deshpande Cohen