What You Need:
Black marker
Construction paper, any color, cut into 6- by 18-inch rectangles
White glue
Construction paper in various colors, cut into 1/8-inch squares. These will be the mosaic pieces.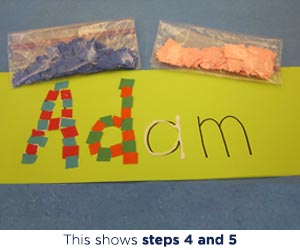 What You Do:
Trace your students' names on the construction paper rectangles.
Separate your mosaic pieces by color and distribute.
Have students trace the first letter of their name in white glue.
Have children choose two colors of mosaic pieces then place them in an A-B-A-B pattern over the glue, covering the entire letter.
Students should repeat Steps 3 and 4 for each letter of their name, using different color combinations for each letter.
Allow the nameplates to dry.