Amy Groesbeck, a third-grade teacher at Garden Ridge Elementary in San Antonio, Texas, is true to the name of her blog, The Animated Teacher. "We dance, we sing, we chant, and we make lots of silly faces!" Her super-organized, bright classroom reflects her energy, as does her Instagram page, #180daysinthelifeofateacher. "Blogging and Instagram have allowed me not only to share my creativity but to collaborate and learn so much from other teachers around the country!"

Check out seven of Amy's cool classroom features: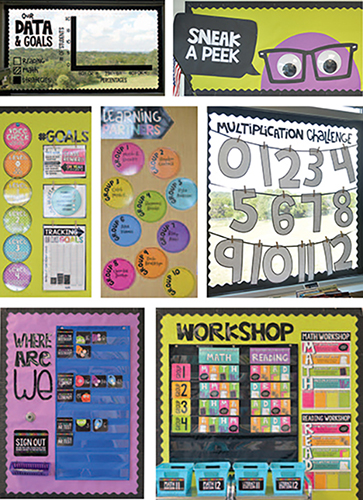 Top Row
Data Board: I use the data board to graph performance on reading and math tests and track the correlation between scores and how kids apply strategies. "It reminds me to show my strategies because the highest scores always have the [most] strategies," says one student.
Anchor Wall: My anchor-chart wall reflects my classroom theme and is a handy reference for students. We frequently refer back to the wall during targeted small-group instruction. I use the catchphrase "Sneak a peek!" to guide students back to these resources.

Center Row
Class Goals: Together we identify an area for growth and track progress daily. When I spot kids demonstrating the targeted behaviors, I award the class an "Oh, Yeah" tally, and they celebrate by chanting, "Oh, yeah!"
Learning Partners: To save time for partner work, I have a board that prearranges students into groups. It also allows them to transition quickly and begin learning tasks promptly.
Math Incentives: To motivate kids as they develop math-fact fluency and improve their automaticity skills, I post a board on another section of my window. They sign their names on each giant number as they master each set of multiplication facts.

Bottom Row
Sign-Out Board: When students need to leave the classroom, they place their number card next to a destination or in the waiting line, greatly reducing interruptions during instructional times. "I like using it because I feel independent!" says a student.
Workshop Management: This board is a visual cue to help students direct their activities during workshop; a matching digital display includes a large countdown timer. The contents of the drawers correlate with a student-choice menu.
Click Here to Subscribe to Scholastic Teacher Magazine
Photos: Bahram Mark Sobhani/AP Images for Scholastic