School has started up in Murfreesboro, and I am most excited about teaching my new set of readers this year. One of my summer goals was to create a multiple intelligence approach to reading instruction, specifically reading strategies, and I am happy to share my findings with you.
Musical-Rhythmic Learners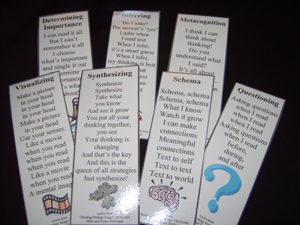 I am an avid reader, and I love the simplicity of Tanny McGregor's Comprehension Connections. McGregor has some postings under readinglady.com that include reading strategy bookmarks set to well-known tunes (e.g., London Bridges for visualizing). For your musically inclined students, taking a second to include a reading comprehension song in your instruction will go a long way. You can download the free bookmarks here (PDF), and you can purchase her CD comprehension songs for $10 here (PDF).
Another free resource available on-line is Wisconsin based "Into the Book" site at http://reading.ecb.org/. The direct link for the reading comprehension songs can be downloaded here for free. The site is worth looking through as it also includes visual posters and video demonstrations of students talking about reading strategies (supports visual-spatial).
Visual-Spatial Learners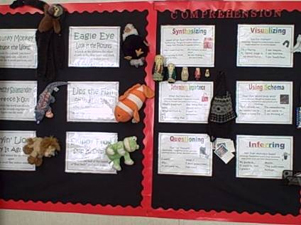 The application of reading strategies is naturally abstract and unseen. However, I took some of the Comprehension Connections ideas and turned it into an instructional bulletin board to aid those visual-spatial learners in our classroom. I call this our comprehension board (right side of picture). An example would be using a trashcan for inferring. With a staged trash can I can slowly pull out each item while modeling my inferring thoughts about the person that the trash belongs to. These concrete examples will aid students with the application of the strategies we teach.
The decoding board (left side of picture) works in the same manner. And yes, I have found that some upper grade students need help decoding words. I can't remember the last time I said, "Sound it out," in class, but I do remember complimenting a student on using the chunky monkey or the skippy frog method. You can click on the photo above for a closer look.
Bodily-Kinesthetic and Naturalistic Learners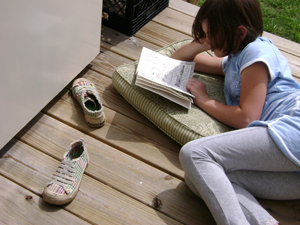 I combined these two because I think about myself as a reader (and writer). The "where" my reading and writing occurs is very important to me, and I am sure this applies to most of my students. Although this is not directly related to teaching reading strategies, I think it is worth merit to say opening up your room to let students spread out on the floor and/or outside will increase the application of the strategies we teach. I have the benefit of a porch and patio, and I quickly learn who my naturalist learners are when I allow students to read (and write) outdoors.
Interpersonal and Intrapersonal Learners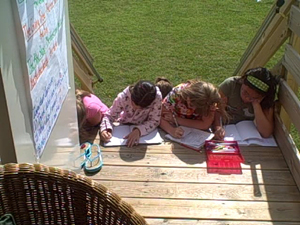 Throughout the year I will ask students to reflect on their use of reading strategies. This is one way to support my intrapersonal learners, as they can best explain their understanding of using reading strategies through this method. This year, I will be using Fountas and Pinnell's Reader's Notebook for reading reflections, letters, and reading logs. I plan on utilizing this most during my individual reading conferences with each student.
For my interpersonal learners, I plan on creating long-term reading partners (lasting 6 weeks or so). According to Kathy Collins, author of Growing Readers, it is NOT beneficial to place a "low" reader with a "high" reader as it only reinforces the dynamics. Her example was running with a partner that is training for a marathon, when she is new to the racing scene. With this in mind, having long(er) reading partners will open up conversation and the ability to relate to each other for reading comprehension discussions more effectively.
Verbal-Linguistic Learners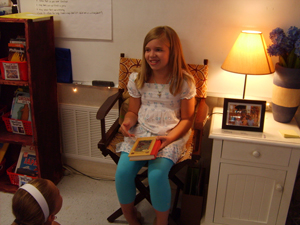 We use the workshop method, which includes daily time for readers and writers to talk to the class during our book talk and author's share time. The good news is that you don't have to use the workshop method to build in time for a book talk. Just create five minutes in your schedule and select five students each day to share what they are learning about themselves as a reader. They can share how certain reading strategies have helped them with comprehending better, as well as advertise the exciting books they've come to love. You can further support your verbal-linguistic learners during individual conference time, as these learners show what they know best through talk.
Logical-Mathematical Learners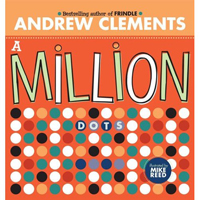 I didn't want to leave out my mathematical thinkers out here. I have focused on purchasing quality math themed books for my classroom this year, and I have already seen it pay off on the first day of school. Well, actually it was registration day and it wasn't my student. However, a parent noted that she was surprised her younger child (that isn't particularly interested in reading) spent his entire time reading a math-based book during our registration time. She made the comment, "I think it's because it feeds his logical mind." She helped me remember that we need to think of these learners during our reading block. When we provide books that interest our logical readers, we increase the application of reading strategies across the board.
And for those of you who have not read A Million Dots by Mike Reed, this is my favorite math book of all time. The facts in this book are fascinating, and it is, in fact, made up of one million dots. So, did you know that if you take a number two pencil and start drawing a straight line it will extend...wait, I don't want to ruin this one for you. Go buy it today!
Concluding Note
Do you have anything to share? Visit my blog so we can work together — as I know this is not the exclusive list of multiple intelligence strategies for teaching reading.
Q & A With Angela
Q 1: Interesting... I start partnerships with partners reading different books. We focus on all the different ways we can share our thinking (make anchor charts together, practice during interactive read aloud, model meetings in a fishbowl manner, etc.). The kids write a brief post-it to share with their partners about every other day, After sharing, these are then stored in our class version of a reading notebook with the book title an date (I add tabs to a composition book... Sticky Notes, Read Aloud, Responses, Group Work). Then I review the stickies to see what kinds of thinking partners are sharing, I also use these notes to identify strengths and weaknesses to make strategy groups. I do have one partnership reading the same book. They will be my models for the class in the future.
I agree in the power of long-term partnerships... it's just getting the level of discussion where it needs to be. Third graders are such transitional learners... ready to move beyond just "I read, you read" partner meetings but not quite practiced enough to be let loose.
I also just read your blog about guided reading, I struggle with chapter book guided reading too... but don't like the leveled readers that come with our basal. I really need to focus on more non-fiction. We get Time for Kids and often don't have enough time to use it as a class. I also have National Geographic for Kids (and many other magazines and a leveled book room to raid). Food for thought... Darn! I just started a chapter book group...
Thanks for keeping me on my toes! Your blog is wonderful, your classroom is a gem and your students are very lucky. —Becky T.
A. Becky, I think reading different books can work as well, but it just keeps coming back to my adult life. Would I want to sit down and discuss a book with my husband and he discuss another book he is reading? That just depends. I am open to different books with my students, but I think it is easier to be reading the same book in the beginning. Naturally, you have more to connect with and have a conversation on. And I agree that you are in a tougher situation being in third. We really can keep in casual in 4th grade. You just say it, model it, and they do it. It really is nice. Keep on doing what you're doing. —Angela