At the beginning of the year, students study the criteria used to select notable book awards, including the Caldecott Medal and the Newbery Medal. Then they develop their own Class Book Awards to bestow upon favorite books in our classroom library. Every other month students decide on different award categories and nominate books they believe are worthy of receiving Class Book Awards. Since my last name is Newingham, we call our class book awards Newibery Awards.

To kick off this year-long activity, I choose 5 book award categories (best illustrations, most unpredictable plot, favorite fiction series, etc.) and pick my favorite books as the first Newibery Book Award winners of the school year. I frame color copies of the books and create a bulletin board to display the winners I have chosen.

Nominations
Once my students understand how this will work in our classroom, they create their own Newibery Book Award categories. Every other month, students suggest new categories, and the class votes on the 5 categories in which they will nominate books. After determining the 5 Newibery categories, students begin nominating books that they are reading in each Newibery category. Students try to read many of the books that are nominated by their classmates during the month so that they will be more prepared to vote.


Voting
At the end of the nominating period all nominated books are added to a Newibery Book Award ballot, and students vote for their favorite book in each category. The book (or series) that gets the most votes in each category receives a Newibery Book Award and is framed for display on our Newibery Book Award Bulletin Board.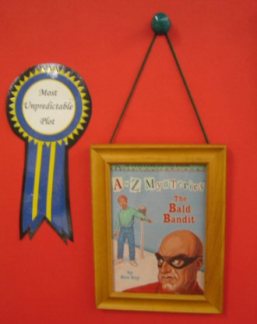 The winner for Most Unpredictable Plot.
Awards Ceremony
The winning books are announced at anexciting Newibery Award Ceremony. I set up a podium and play traditional awards ceremony music. I act as the host of the awards show, and my students act as the presenters. Selected students announce the nominees in each category and then open a colorful envelope to reveal the winning book. The "audience" cheers, and the student who nominated the book can choose to make an "acceptance" speech to thank his or her classmates for voting for the book. The student also explains why he or she nominated the book.

Winning Books
All winning book covers (color copies) are placed inside frames and added to our Newibery bulletin board display with a blue ribbon that indicates the category in which each book was nominated. Once a book has received a Newibery Award, it is forever branded with a Newibery seal to indicate to current (and future) students that the book is has been selected by the 2006-2007 students of Room 13 as a great read!

I have found that this activity promotes excitement about books and helps to strengthen the reading community in my classroom.