With this colorful craft, your students will discover that fish and the colors red and yellow are good luck symbols for Lunar New Year.
What You Need:
Paper bags, one per student
Scissors
Stapler
Pencils
Red and yellow construction paper
Glue
Red, yellow, and gold ribbons
Googly eyes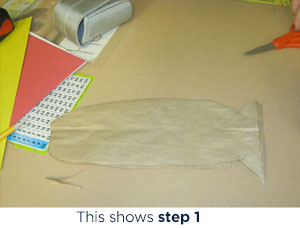 What You Do:
Have your students trace a fish shape onto a paper bag. The flap of the bag should be the fish's mouth so it can flap open and shut like a real fish mouth. Have the students cut out the fish, as shown.
Have the students trace their fish shape onto the red and yellow construction paper and cut out both shapes.
Have the students glue the red fish to one side of the paper bag shape, and the yellow to the other side.
Now the students can glue googly eyes to both the red and the yellow sides of the fish.
Your students can decorate their fish with ribbons and strips of construction paper to add scales, tails, or any other details they desire.
Extension Activity
Teach your students how to express New Year good wishes in Mandarin. Try saying Xin Nian Kuai Le, "Happy New Year," and Gong Xi Fa Cai, "Wishing you prosperity in the coming year."
Visit Good Characters for pronunciation and character-writing guides for Xin Nian Kuai Le, Gong Xi Fa Cai, and more.