Your Character Chart interactive organizer can be used with a whole class, small group, or individual students. It is ideal for guiding cooperative learning groups or, using a printed version to hand out, for independent work at home.
Using the Character Chart graphic organizer students will:
Identify character traits
Infer character traits from story clues
Show character through action in their writing
Purpose
Most often, literary characters are developed and understood by their actions. This organizer helps students to see the connection between a character's actions and his or her description. Used as a prewriting tool, it helps students to "show what their character is like," rather than telling.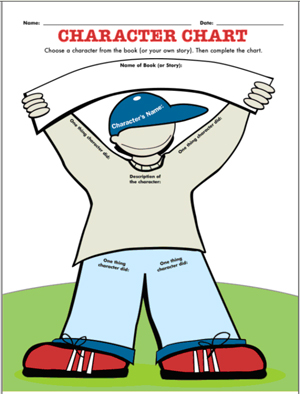 Download the File
Download this Character Chart: Reading Comprehension and Writing file to use it on your interactive whiteboard. The chart is one of the 50 classroom-tested reproducible templates in 50 Graphic Organizers for the Interactive Whiteboard. (Note: If you don't already have Notebook Interactive Viewer, you can access a free version of the SMART Notebook Express software with SMART Notebook Express.)
How to Use the Character Chart Graphic Organizer
Model the use of this organizer using a well-known literary character. Write the name of the character on the face. Next, ask students to describe the character to you.
As the class offers adjectives, record them on the tummy and ask, "How do you know the character is (mean, smart, tricky, etc.)?" Encourage students to tell you what he character did to create this impression. Record the character's actions on the limbs.
Help students understand that good writers show their readers, through a character's behavior, what a character is like. (If students have difficulty beginning with the description, they may write actions first and later conclude what those actions tell about the character.)

More Activities From 50 Graphic Organizers for the Interactive Whiteboard

About The Book
50 Graphic Organizers for the Interactive Whiteboard (Grades 2–5), by Jennifer Jacobson & Dottie Raymer, offers whiteboard-ready graphic organizers for language arts, social studies, science, math, and study skills to make learning engaging and interactive. Includes a CD, which contains both PDF (Adobe Acrobat®) and Notebook (SMART Board®) versions of the graphic organizers in full color. These interactive files can be filled in either by hand or by typing on a keyboard and are perfect for modeling. A surefire way to engage all students and enhance their learning!

About Scholastic Professional
Scholastic Professional offers a range of books, DVDs, Study Guides, web downloads, and other resources and services that can support you as you make the dozens of daily instructional decisions that may forever shape the lives of your students. These resources bring together essential research and effective practice while always recognizing the challenges and pressures you face. Our mission to serve you is shaped by equal measures of passion and compassion. To learn more, visit Scholastic Professional.