I had a former student make his way to my classroom Friday afternoon. He quietly said, "Mrs. Bunyi, how are you? I am going to the Grand Canyon soon, and I was wondering if you had a book I could borrow before I go." I knew exactly where to go and sent him on his way within a matter of seconds. Honestly, it felt great to be able to place that book in his hands. It also felt wonderful to have a system that made it easy to find the requested books.
The Tools of Our Trade
A few years back I was conducting a literacy meeting at one of my schools. The topic was building and maintaining a balanced classroom library. I used Richard Allington's quote of 1,500 books for a base in elementary classrooms and used that to support bringing in more rich literature. I still remember one teacher saying, "That's not realistic. How could we do that?" My response back was, "How can we not? It's the tools of our trade." I have said this before, but I'll say this again: I just can't imagine teaching in a literary desert. So, with so many books, comes so many responsibilities. How does one keep up with a large classroom library? I have a couple of things in place to help in our room, and I hope it will help in yours.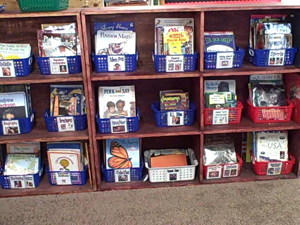 Here are four things to consider when building or supporting your classroom library this year:
1. Organization by Themes, Not Levels
One of the first things I decided when creating my classroom library was to not organize my books by level. Considering a prominent goal for me as a teacher is to help students' independently self-select books of their choice, I plowed forward with my organization by theme. I even went to my local bookstores and noted their organization for inspiration and areas of weakness in my collection.
I discovered that students not only find books easier with this approach, but they also know their genres very well. I leave the teaching of self-selection to my mini-lessons and individual conferences. I still add the level of the book using Scholastic to help monitor my student's book selections, and I privately consult students on future book selections (level or genre balance), I just don't have bins sorted by level. It's also nice that you can visually see which genres need more representation, which helps when you go book shopping. I once heard a speaker say, "Buy the bins and the books will come." So true.
2. Balance of Fiction, Nonfiction, and Informational Text
Teaching in the upper grades we all feel the pressure to teach the content areas well. And yet there is so much to cover and so little time! The good news is that we can be working smarter not harder by incorporating more nonfiction and informational texts into our classroom library. This way we are reading to learn and supporting our content standards at the same time. Research supports the following balance: 1/3 fiction, 1/3 nonfiction, and 1/3 informational text. An added bonus is that you don't have to rely on a textbook when you have high interest books on your shelves and in your student's hands. An example would be when we were researching facts on our cell video. Students looked for books in our room and the library. The textbook was not the first stop.
3. Taking It to the Web
I use a paid software program called Intelliscanner for my classroom. The cost is about $150, but I believe it is well worth it if you have a large library collection or value organization. I never knew so much information could be pulled up with an ISBN number, but with a simple scan I can decipher everything from number of pages, publishing information, author, genre, cover photo, and more! From there, I merely add the level and location for each book. Intelliscanner even comes with a free web site with a search engine for your collection. I utilized parents to scan books into the system as well as create individual book labels for bin location and level. Added bonus — a printer friendly edition is available and can be transferred to Microsoft Excel. I admit that I stopped at 2,300 books and have failed to update the site beyond that, but I use the printed version on a weekly basis. To visit our Intelliscanner site, click here.
4. It's All About the Bins/Labels
The bins I use are expensive. They come from Really Good Stuff, but you get what you pay for. They are sturdy, durable, and they last a long time. I have four colored bins indicating genre/themes. Yellow includes poetry, and fiction. Green includes award winners and misc. topics (ex- book buddy bins). Blue includes informational books and author studies. Red is nonfiction. I now have 60 bins with most of the novels sorted by author name in a rotating bookshelf. I make sure the books are facing forward so it makes it easier to browse through books.
Regarding labels, I adapted Beth Newingham's labels (among many things!) and replaced them with realistic photos. After laminating, I used gorilla glue on the back and used clear clips to firmly secure the labels. On each book I used a clear mailing sticker to add the following information:
* title of the book
* color code to indicate section of library to return
* bin location
* level, if possible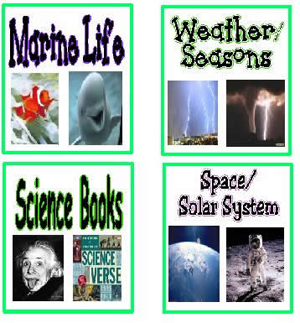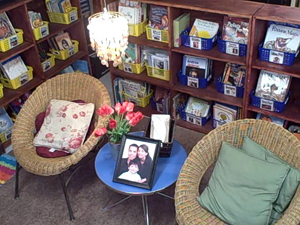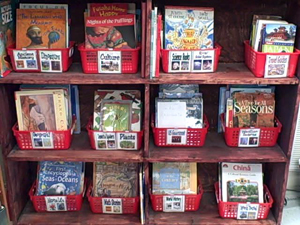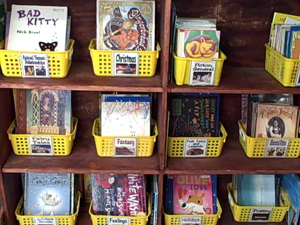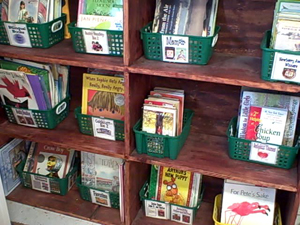 Q&A With Angela
Q 1: This is an amazing system you have working here Angela. I always go to the Scholastic Book Fairs Warehouse Sales to build up my library. I think that another trick is to mention to parents at the end of the year that if their child has books that are too easy for them now that they would like to donate to our classroom that you would welcome their donations! I send home labels "Donated to Third Grade by:" and the kids take real pride in sending back books with the labels giving them credit. — Doug.
A: Good points! I forgot about mentioning the resources right under our nose. To add to that - I have asked that books be donated to the classroom instead of purchasing a gift for me during the holidays and at the end-of-the year. Last year I received 250.00 worth of Barnes and Noble gift cards...and that was just for Christmas. I received about the same amount at the end of-the-year. Best to you, Angela
Q 2: Hi, I am a 4th grade teacher in Texas who is pulling hair out due to loss of books! I have great kids, but no matter what system I have in place, my classroom library books disappear. This year - BY THE TONS! I began Googling and ran across your site. I have been researching the Intelliscanner, thanks to you, but I have a couple of questions.
1. Which model do you use? 2. How easy is it to check books in and out to your students? 3. What are your procedures for lending a book? Thanks, Fraun P.

A: Hello! I have had my experiences with book "stealing" years, but I am fortunate enough to not have that problem this year or last. I've also received, on two different years, a large box of books found during the summer from a former student (usually one of my best readers). For the past two years I have never needed to use the Intelliscanner for checking books in and out. My kids just get books when they need them, and I have a student that keeps it organized with an early start time in the morning. So, with that said...if I had a problem with missing books, I would have a library check-out day once a week. You would simply need to scan the ISBN number, like the library at school. It's pretty quick and easy...just an extra step I don't need to take this year. The version I have is the cheapest one (not the cordless). It is now $150.00, I believe. Hope that helps, Angela
Q 3: Angela, How do you finance your library? — Joe Pendleton
A: All the same methods that everyone else uses. Goodwill, garage sales, Scholasic, used bookstores, begging, stealing, borrowing, looking high, looking low. My favorite is McKay's Used Bookstore in Knoxville. I just take a shopping cart and fill it completely up every time. I have never spent less than 100 dollars in that place, ever. It's the best. You can also get quality books on CD as well. — Angela