Are you curious to know how a real published author writes her books? Shana Corey, author of Milly and the Macy's Parade, gives tips to student writers and explains how she writes books like You Forgot Your Skirt, Amelia Bloomer!, Players in Pigtails, and the First Graders From Mars series.
Dear Readers,
I think the most important thing you can do if you want to be a writer is to read. So if you want to write, I'd encourage you to read everything that grabs your interest, whether it's a book, a newspaper, a comic strip, or a cereal box — it's all reading, and it may inspire you down the road (or at least keep you entertained while you're eating breakfast).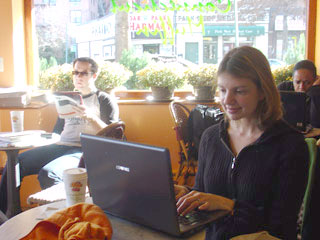 Every writer has a different process, but here are some details about the way I work. This photo shows me writing at my favorite cafe. It has the best mochas in Brooklyn (I think coffee is best when it has a lot of chocolate in it!).
I get ideas from all sorts of places — books I've read, history, my life, my neighborhood. My first book, You Forgot Your Skirt, Amelia Bloomer!, was inspired by history. It tells the true story of Amelia Bloomer. Amelia lived in the 1800s, a time when proper ladies were expected to wear long, heavy dresses with tight corsets underneath. Amelia was an advocate for women's rights and for dress reform. She's the woman "bloomers" are named after.
First Graders From Mars was inspired by something that really happened to me. I've never been to Mars, but I did move to a new town in the middle of kindergarten, and I was scared to go to the new school. When you're writing fiction, you can use real feelings and memories (like being scared of a new school) and make up a story around them.
The idea for Milly and the Macy's Parade was partly inspired by history (the parade really was started by immigrants who worked at Macy's) and partly by my grandmothers, who, like Milly, were the daughters of immigrants and who were about the same age as Milly in 1924, when the parade began. This photo shows my grandma Pauline and my great-grandmother Clara. Great-grandma Clara immigrated to the United States from Lithuania when she was 13.
As someone born in America, I admire the courage it takes to give up everything that's familiar and make the journey to a new country. I wanted to write a little about that. I also love that America is a country made up of immigrants and I thought it was wonderfully fitting that a tradition as quintessentially American as the Macy's Parade started with immigrants.
Since I often write about history, I spend a lot of time researching. My favorite way to research is to read newspapers and magazines from the time I'm researching. Newspapers and magazines not only give you information about your subject, but they can give you a feel for what it was like to live in a time — how people dressed and talked, how much things cost, even what kind of soap was popular.
I came across this wonderful June 1945 article (magazine unknown) on the All-American Girls Professional Baseball League while I was browsing at a flea market on vacation!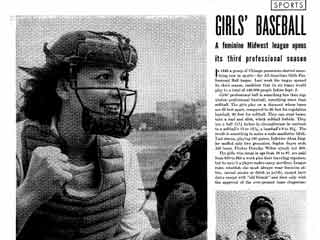 I also like to talk to people and hear their stories first hand if I can. For Milly, my editor Tracy Mack, the illustrator Brett Helquist, and I spent time talking to the Macy's historian and took a behind-the-scenes tour of the store. For Players in Pigtails, I had the pleasure of interviewing some of the actual members of the All-American Girls Baseball League. They told me things that I could never have found in books or magazines, like the colors of the uniforms, since I couldn't find it in my research and all of the photographs from those days were in black and white!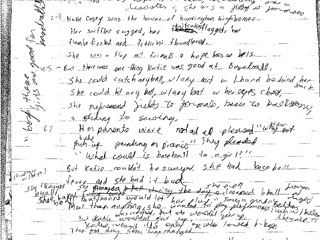 After I've done my research, I start writing. For years I began my drafts on yellow legal pads because that's what I remember my dad using when I visited his office and so they feel very important and official to me. This is the rough draft for Players in Pigtails. Pretty messy!
Now that I have a laptop, I usually write on that. But I still highly recommend yellow legal pads!
Happy writing!
Shana Corey
P.S. One of the cool things about being a writer is that you can write secret messages to people in your books! In my book First Graders From Mars, I invented a Martian word for "hello." Can you find the secret message to my husband, Pio, on this page?