This easy, seasonal craft has students outline the shape of an apple using pencil erasers as paintbrushes.
What You Need:
Scissors
White construction paper, one 9-inch by 12-inch piece per student
Red, green, and brown tempera paint
Paper plates
Paper towels
Pencils with unused eraser tips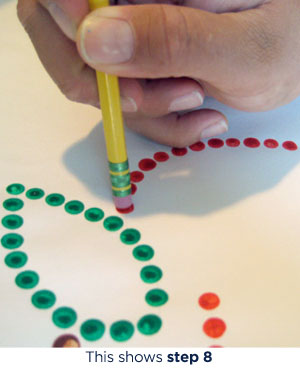 What You Do:
Download and print several copies of the apple template for your classroom, then cut out the templates.
Pour a little of the green, brown, and red paints onto separate paper plates for children and hand out a paper towel to each student.
Students trace the apple template onto pieces of white construction paper.
Have students dip their pencil erasers into the green paint and carefully dab the eraser along the outline of the apple's leaf. Make sure children hold the pencil straight up and down, not at an angle, and re-dip the eraser after each dab.
Students clean off their erasers completely by wiping them on the paper towels.
Have children dip the pencil eraser in the brown paint and outline the apple stem.
Students clean off their erasers again.
Using the red paint, have children dip the eraser and outline the rest of the apple.
Optional: Cut around the apple and mount it on another sheet of construction paper.