On November 29, 2006, author Ann Martin participated in a chat with Scholastic students and teachers. Ann is the author of the Baby-Sitters Club series and the recent hit A Dog's Life. Other books include Snail Mail No More (with Paula Danziger), The Doll People (with Laura Godwin) and A Corner of the Universe, which are loved by children and adults of all ages.
Welcome to our chat with Ann M. Martin in celebration of Read For 2007.
When did you become an author?

My first book (
Bummer Summer
) was published in 1983 so I guess that's when I truly became an author.
Have you always wanted to be an author?

I always enjoyed writing, but didn't start writing seriously until after I had graduated from college.
What do you love about being a writer?

I like telling stories: I like the opportunity to express myself, and I feel lucky that that's what I get to do all day long. Also, I particularly like creating characters.
I just finished reading On Christmas Eve. Did something inspire you to write it?

First of all, I love Christmas! My father made Christmas very special for my sister and me when we were growing up. I always wished there really were a Santa Claus, and that's what the book is about: a true believer who gets to meet Santa.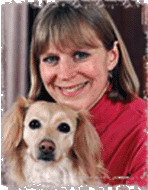 Ann Martin

I read your book The Doll People. It was great! Did you work with another author to write it?
Yes, I worked with Laura Godwin. And Laura and I worked closely with Brian Selznick, the illustrator.
When will there be another book in the Doll People series?
There are already two books, and there is going to be a third book. At the moment it's scheduled to be published in the fall of 2008. It's called The Runaway Dolls.

What was your inspiration for the book A Corner of the Universe? It was a fantastic book that I recommend to students when they are looking for a good book.
Thank you. The inspiration was a family story. When I was 9 years old, I learned I had had another uncle - my mother's brother Stephen. Adam's story in A Corner of the Universe is loosely based on Stephen's story.

Can you tell us anything about Main Street? It's about four friends whose grandmothers are in a knitting circle, right?
Well, that was close! It's about four young girls who are best friends. They live in the small town of Camden Falls, in New England, and the grandmothers of three of the girls own a sewing store on Main Street in town. The stories, which are contemporary, center around the girls, small-town happenings, and other people - including adults - in the town. The first book will be out in May of 2007, and the next three books will come out between then and May of 2008. After that, there will be two to three books a year.

When will the Main Street series begin?
The first book in the series will be called Welcome to Camden Falls and will be in stores next May.

Where do you come up with the ideas for your stories? [From Mrs. Shugart's 4th grade]
The ideas for stories come from all over the place. Some stories are based on things that happened to me when I was growing up, some are based on contemporary events, and some are more fanciful, such as The Doll People. I think the stories that are the most meaningful to me are the ones that are personal, such as A Corner of the Universe.

How did you come up with the idea for A Dog's Life? How many pets do you have? Any strays?
My dog Sadie was the inspiration for A Dog's Life. Her mother was a stray, and while Sadie wasn't born in the wild, she was so shy as a puppy that I began to wonder what would have happened if she had been born in the wild. Would she even have survived? That was the beginning of Squirrel's story in A Dog's Life. Most of the story is imaginary, but it's based on what I thought could have happened to Sadie.

I have three cats, and Sadie (my dog). One of the cats was a stray (I found him in the parking lot), and another was born to a stray.

What are your favorite books that you've read and written, and who is your favorite author today? Will you ever write other kinds of books, like biographies?
My favorite book that I've written is A Corner of the Universe, and my all-time favorite book is To Kill a Mockingbird, followed closely by The Heart is a Lonely Hunter.

In terms of authors, I can never choose just one favorite. Harper Lee wrote To Kill a Mockingbird, and Carson McCullers wrote The Heart is a Lonely Hunter, but I like lots of others. Some of my favorite authors of children's books are Roald Dahl, Karen Hesse, Paula Danziger, and Lewis Carroll.

I don't have plans to write any biographies or nonfiction. At the moment I'm enjoying writing contemporary fiction, but never say never. I had a lot of fun writing the Doll People books, which are fantasy. Who knows what might happen next?

Your older books are drastically different from what you write now. How do you think your writing styles have changed?
That's an interesting question . . . when I think about it, I don't feel that my writing style has changed, but I believe I'm more thoughtful about characters. This is a hard question to answer, since my books are such a part of me. I think it would probably be easier for an objective observer (someone other than me) to answer the question.

I love writing. Do you have any hints or suggestions?
First of all, read all different kinds of writing, so you become familiar with fiction, nonfiction, journalism, poetry, and so forth. Also, it can be particularly helpful to keep a journal. This is important not just because it's good writing practice, but because your journal will be a good source of ideas. Kids frequently tell me they don't know what to write about, and a journal is a great source of story starters.

How did you come up with the series, The Baby-Sitter's Club?
The idea for The Baby-Sitters Club came from Jean Feiwel, who used to work at Scholastic. She had an idea for a mini-series about a group of friends who had created a baby-sitting club. So I created the four original main characters, thought about what a baby-sitting club might be, and that was the beginning!

Ann, I'm really enjoying the Baby-Sitter's Club graphic novels! How are you involved with them?
As the illustrator lays out the text and art, I read through her pages to check for accuracy and flow, and to make comments. I feel very honored to be involved in the process.

What are your favorite Baby-Sitter's Club books and characters, and why?
My favorite Baby-Sitter's Club book is the first one, since it started everything. I also like Kristy's Big Day. My favorite character is Kristy, since I created her first. Another favorite character is Karen from the Little Sister books, because she was so much fun to write about.

What is most important to you when developing a character for one of your books? What qualities do you want your main character to possess?
The qualities depend on the book that I'm writing, but when I'm developing a character it is important to be able to get inside the character's head and see out from her eyes. Sometimes I create the character's history before I create her traits. It's helpful to imagine the character's world, so I can place her in it.

Are the character names any names of people you know?
Yes, many of the characters are named after people I know, but some names are completely made up. Mary Anne in the Baby-sitters Club is based on me. Claudia was named after my friend Claudia. Mallory was named after a neighbor of mine when I was growing up.

Of all the people you've worked with since you've been writing, who has had the biggest influence?
My editors have had the biggest influence on my writing. I learn from them every day, and would be lost without them.

Paula Danziger came to our school - was it harder or easier to write with her? How was your writing different from hers, and how did y'all get the idea for Snail Mail No More? Were you sad when she passed away?
Writing with Paula was different, but fun. She and I had very different ways of writing. For instance, Paula didn't like to outline and I outline meticulously, so we had to compromise. But Paula was hilarious, so while we learned a lot from each other, we also had fun.

I don't remember specifically how the idea for Snail Mail No More came about, except that Paula and I had been talking for a while about ways to collaborate. Finally, a mutual friend suggested an epistolary novel, which is a novel based on an exchange of letters. Since Paula and I are so different, we thought it would be fun to create two characters, one based on Paula's personality and one based on mine. From there the story unfolded.

Paula and I were friends for a long time and wrote two books together, so of course I was very sad when she passed away. Her death was a great loss to all her friends.

How many books have you written so far?
I've written about 20 books that are not part of the series.

How did you become an author?
I had always enjoyed writing. After I graduated from college I taught school for a year, and at that time writing became even more important to me, so I left teaching and went into publishing. I began working at Simon & Schuster and started writing my first novel. Then I found an agent and an editor, and eventually Bummer Summer was published.

When you first started writing, what was your favorite thing to write about?
I would say it's the same thing I most like to write now, which is contemporary fiction. Later, I wrote four books that were set in the 1950s and 1960s, the years when I was a child. For now I've returned to contemporary fiction, though.

Do you ever write for a girl or boy audience, or always both?
I don't usually have a particular reader in mind when I write, not even an age group. I write what feels natural, and most of my main characters are girls, but I don't feel I'm writing specifically for a female audience.

How long does it take for you to write a book?
It depends on the book. Bummer Summer took about three years to write. Laura Godwin and I needed almost five years to write the first Doll People book. The Baby-Sitters Club books came out once a month, so I had a month to write each one. In general, I like to have at least a year to work on a book that's not part of a series.

How do you decide what story you will write next?
I don't generally make a decision about what I'll write next, because, usually, story ideas have been perking for a while. With series, what happens in the most recent book helps determine what will take place in the next book. In general, stories come to me in pieces, and when I have enough pieces, I start to think of the plot in greater detail.

How many times do you revise your writing before you publish?
It depends on the story. Some books go into production with very little editing, and some with a lot. Laura Godwin and I wrote The Doll People from beginning to end at least four times before everyone was satisfied with the story. I like the revision process, so when I'm asked to make changes, I enjoy the work. I'm a perfectionist, and I like tinkering with the characters and the storyline.

How do you create your outlines?
I start with what I call a "framework" outline, which is a general outline that gets the story from the beginning to end. Then I write a brief chapter-by-chapter outline, in which I jot down a sentence or two about what will happen in each chapter. Then I expand the chapter-by-chapter outline, adding more detail. I also write character sketches, as well as a description of the story setting.
What do you do with all your fan letters and gifts fans send?
Well, first of all, all fan mail gets answered! Years ago, I used to save everything, but this became a space problem. Now I put new photos and art and so forth on the bulletin board, then change things around as new items are sent to me.

Will you be doing book signings for your new books?
I will be visiting schools and bookstores in May to promote the new Main Street series - stay tuned for more details! The info will be on the Main Street Web site, but that's not ready yet - so check back later.

Moderator: We're almost out of time. Ms. Martin, is there anything that you'd like to add?

Read, read, read! That's the most important thing you can do - plus it's a lot of fun.

Thank you for taking the time to chat with me today.