Whether your class is full of budding bookworms or reluctant readers (or both!), making a cozy reading space for kids to enjoy creates a magical ­experience for everyone. We know, of course, that it's not always easy to find the space or the funds. But designing an amazing book nook doesn't have to break the bank — or take over your classroom. From reviving old furniture to creating a mini-oasis (or two, or three) in a spare corner, the smallest touches can go a long way toward transforming your space. We spoke with five teachers to learn how they designed their classroom ­reading alcoves. With a few seat cushions, some paint, and a whole lot of creativity, they turned the corners of their classrooms into storybook spaces. Take a peek inside.
The Land of Stories
"It's always my hope that my own love for books will be contagious as I find fun and effective ways to teach reading," says Rachel Ashmore, a third-grade teacher and blogger at Our Small-Town Idaho Life. Ashmore's camping-themed classroom at Hibbard Elementary is full of unique reading spaces, including a tent, a park bench, child-size camp chairs, and a couch with leaf-print pillows. Having multiple reading areas allows Ashmore to take full advantage of her space. After all, "even the tiniest corner can be transformed into a cozy, appealing retreat just by adding a pillow and a stuffed bear!"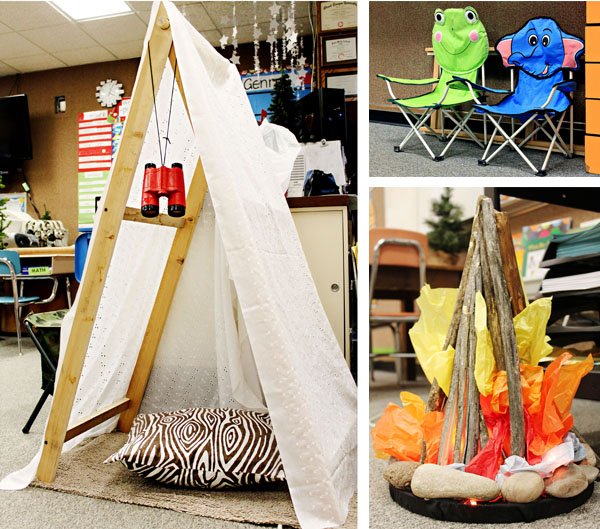 Image: Courtesy of Rachel Ashmore
Build Your Own
To make the tent, Ashmore built a wooden A-frame and draped sheer fabric over it (to allow for light, and supervision). Kids earn the coveted reading spot with good behavior.
Have Options
"Kids love to make choices," says Ashmore. "I've found that the more choices they have when deciding where they will work, the fewer conflicts."
Heat Things Up
To create a communal reading space, Ashmore made a class campfire by gluing sticks, rocks, and tissue paper to a bucket lid wrapped in black fabric. She even tucked Christmas lights beneath the tissue paper to make the fire glow.
The Borrowers
K–5 art specialist Janine Bunkowski knows that the secret to creating amazing spaces on a budget is to "reuse and repurpose." So, when Bunkowski added a reading corner to her Discovery Community School classroom in Waite Park, Minnesota, she took a page from The Borrowers and scoured garage sales and home-improvement stores to find items she could convert into the creative pieces that give the space its eclectic look. The space has evolved over time, of course. "I've been teaching in the St. Cloud district for 19 years and I can honestly say I have never had a boring day in the art room," says Bunkowski.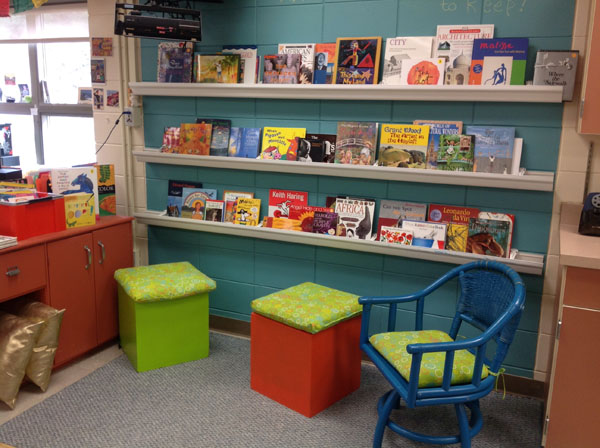 Image: Courtesy of Janine Bunkowski
Draw on the Walls
Bunkowski painted one wall to "separate the space visually." Plus, a darker wall is a great surface for chalk art. Bunkowski writes inspirational quotes on hers.
Upcycle
Bunkowski's advice for finding furniture: "Rethink how a castoff piece can be used to anchor your space." Try converting old storage cubes into stools with garage-sale cushions and fabric left over from bulletin boards.
Catching Books
Vinyl rain gutters make an affordable alternative to shelves. Plus, using gutters allows Bunkowski to display books with the covers visible. "It's more enticing for the students and a time-saver for me," she says.
A Corner of the Universe
Like Hattie in the coming-of-age story A Corner of the Universe, Jessica Falkenhagen's fifth graders are learning to be independent thinkers. "My favorite moments in teaching are when those lightbulbs go off and they make connections on their own," says the teacher at Eagle Rock Elementary School in Eagle Point, Oregon. So Falkenhagen, blogger at Dandelions and Dragonflies, designed a reading corner that felt more "grown up," using bookshelves as a room divider and including features that mimic the library experience.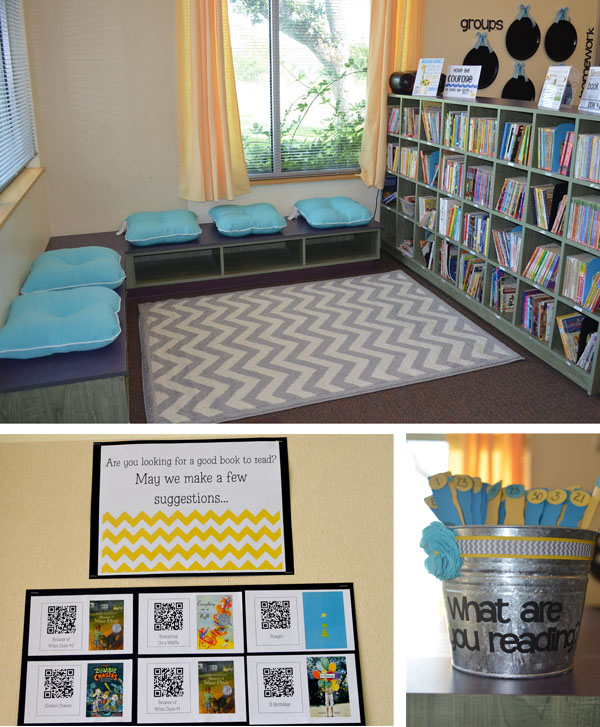 Image: Courtesy of Jessica Falkenhagen
Carve Out a Corner
"Keep your nook as separate as possible," advises Falkenhagen. "I know space can be tight, but by using
elements such as shelving, tables, and rugs, you can create a little nook."
Make Time for Tech
Falkenhagen added a 21st-century boost to her nook by posting QR codes for student-made book trailers. After scanning the codes, kids watch the trailers for reading recs.
Mark the Spot
Falkenhagen made numbered place-markers to enable middle-grade students to check books out independently—and keep shelves organized.
A Wrinkle in Time
Hope King's groovy classroom at Pendleton Elementary in South Carolina was a long time in the making. "It only took me six years, but I finally stumbled upon the perfect way to set up my book nook," jokes King, blogger at Second Grade Shenanigans. Among her must-haves: happy colors, cozy couches, bright lights, and, of course, lots of books. "As a teacher, I get to create magic for the students in my classroom every day," says King, whose reading corner takes kids back in time. "I want my students to see reading for what it is: an adventure."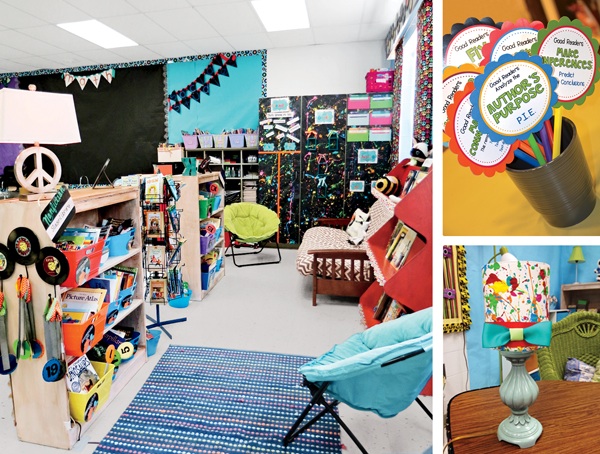 Image: Courtesy of Hope King
Find Funky Furniture
"My futon wins me cool points," says King, whose students clamor for the sought-after seat. "If a futon can create that level of anticipation for reading, it is a must-have."
Splash Away
King brightened up her reading corner by adding touches of "splatter art" everywhere, from the cupboards to a recycled lamp. Grab some paint and a brush and go wild.
Watch Kids Soar
King created "think clouds" that feature reading skills such as visualizing. While kids read, they can grab a cloud representing a skill they're using and share what they've learned during group discussions.
The Secret Garden
Laura Santos's third graders at Noddin Elementary in San Jose, California, inspire her to "be creative, try new things, and stay young at heart." That inspiration is evident in the touches of whimsy throughout Santos's Secret Garden–esque reading space — most noticeably, the handcrafted tree growing in the corner. Santos, blogger at Core Inspiration, says these details make her reading corner "feel like home." She adds, "The world around us disappears."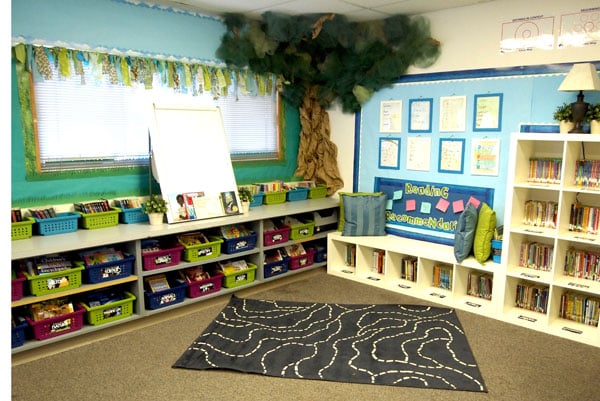 Image: Courtesy of Laura Santos
Grow Wild
To make this tree, Santos (inspired by teammate Megan Wright) created spirals out of strips of postal wrap and twisted them together to form a trunk. Next, Santos transformed smaller twists into branches and made leaves from bunched-up tulle.
Save Space
Santos makes the most of her space by using some pieces for storage and seating. Just add cushions.
Switch Things Up
To foster a sense of community, Santos carved out a space for students to share book recs on Post-it notes. Once the wall fills up, she adds old recommendations to an archive.