Our best storytellers are spinners of dreams, masters of satire, bearers of hard truths, recounters of history. A story can be told in many ways—through cartoon panels, through verse, through pictures coupled with text. And through words like these, from Kate DiCamillo's newest, Raymie Nightingale: "She made her soul smaller and smaller. She imagined it becoming as tiny as the period at the end of a sentence. No one would ever find it."
Just like The Secret Garden, The Giving Tree, and the Harry Potter series, some of these books will become beloved classics. As you read them, and read them again, we think you'll feel, as the bear-bunny hero of Ollie's Odyssey put it, like your "heart had been on a long, long journey."
Want to share these books with your students? First, download an easy-to-print PDF of our Summer Book List. Then, check the boxes for books you recommend for your class. Download the PDF here:
• Scholastic Teacher's 2016 Summer Reading List
Humor
Julius Zebra: Rumble With the Romans
By Gary Northfield. $15.99. Gr. 2–5.
Thrust into the midst of gladiatorial Rome, Julius Zebra (who is not a stripy horse!) and fellow captives Milus the cranky lion and Cornelius the clueless warthog must prove their mettle against Rome's meanest. Great, goofy fun.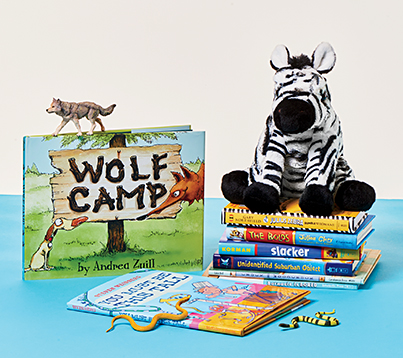 Wolf Camp
By Andrea Zuill. $16.99. Grades K–3.
Homer the dog longs to feel like a real wolf, so he petitions his "people" to attend Wolf Camp. He learns to howl, track, and eat his kill ("yucky"), though he's missing the comforts of home. In the end, he is changed: "no longer plain old Homer [but] an honorary wolf"!
Barnacle Is Bored
By Jonathan Fenske. $14.99. Gr. K–2.
Barnacle has many complaints, but most of all he is Bored. Bored. BORED. He deeply envies a free-swimming "little polka-dotted showoff" of a fish, until he witnesses the cost of freedom.
Unidentified Suburban Object
By Mike Jung. $16.99. Gr. 3–7.
Chloe Cho has had it with people identifying her as a generic Asian-American—she is proudly Korean, even while her parents seem to be in denial. What she finds when she pushes them on it takes feeling alienated to its logical conclusion.
You Must Be This Tall
By Steven Weinberg. $17.99. Gr. K–2.
"Snake friends Frank and Harold are off to the fair, eager to ride The Rattler. But they have to employ some clever thinking to stop their plans from being ruined by the pig who keeps announcing, 'You must be this tall.'" —Laura Given, library media specialist, Roseville, MN
Slacker
By Gordon Korman. $16.99. Gr. 3–7.
Cam is "a slacker the way LeBron James was a basketball player—through a mixture of rare natural gift and intense practice." But when he almost burns down the house, his "lifestyle" is seriously threatened. Korman nails teen attitude.
Chuck and Woodchuck
By Cece Bell. $15.99. Gr. K–2.
This sweet and quirky boy-meets-girl tale stars…a woodchuck. Chuck's buck-toothed right-hand "man" facilitates love through woolly caps, cupcakes, and art projects until Chuck musters the courage to make a move on his own.
The Bolds
By Julian Clary. $16.99. Gr. 3–6.
"What happens when opportunistic hyenas take on the identity of a lovely couple from Teddington, England? Plenty. Fred and Amelia Bold find jobs, start a family, and make friends, all while properly attired. With whimsical pen-and-ink illustrations." —Jennifer Kelley Reed, teacher-librarian, Newton, MA
Fantasy & Magic
The Key to Extraordinary
By Natalie Lloyd. $16.99. Gr. 3–7.
Bursting with magic, this extraordinary tale follows Emma Pearl Casey on her mission to save her family's Boneyard Cafe, beloved by the people of Blackbird Hollow, a town where flowers transmit messages and ghosts linger near graveyards.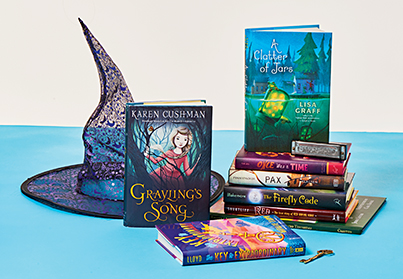 A Clatter of Jars
By Lisa Graff. $16.99. Gr. 3–6.
In a world in which people possess Talents with a capital T, from mind reading to identifying any frog species, a group of kids meet at summer camp. Strange things start to happen, and it's up to the campers to figure out why. A poignant companion to A Tangle of Knots.
Red: The True Story of Little Red Riding Hood
By Liesl Shurtliff. $16.99. Gr. 3–7.
"Readers met Red in Shurtliff's Rump: The True Story of Rumpelstiltskin. Here, she takes center stage, embarking on a hero's journey to find a cure for Granny. Red will make readers hungry for more fractured fairy tales." —Colby Sharp, grade 3 teacher, Parma, MI
Once Was a Time
By Leila Sales. $16.99. Gr. 4–7.
When 10-year-old Lottie is transported from World War II–era England to modern-day America—leaving behind her best friend and her father, a time-travel expert—she sets out on a quest to find her way back. Sales handles the complexities of time travel with grace.
Pax
By Sarah Pennypacker, illustrated by Jon Klassen. $16.99. Gr. 4–7.
"You'll wish this lyrical novel came with a highlighter and a pack of Kleenex. Your highlighter will get a workout as it comes in contact with sentences that sing, and memorable characters will make you reach for the tissues." —John Schumacher, Ambassador of School Libraries for Scholastic Book Fairs
The Firefly Code
By Megan Frazer Blakemore. $16.99. Gr. 4–7.
Life in Old Harmonie is perfect, down to the kids who are genetically engineered to be their "best" selves. Still, the new girl in town, Ilana, seems a little too perfect. As Mori unravels Ilana's secrets, the novel unfolds into a compelling reflection on what it means to be human, and to love.
Grayling's Song
By Karen Cushman. $16.99. Gr. 4–7.
Grayling must summon up courage she never knew she had to save her mother, a respected witch struck by a dark curse. With help from a chatty mouse, an enchantress, and a wacky witch, Grayling blossoms into the kind of person we should all aspire to be, magical or not.
The Girl Who Saved Yesterday
By Julius Lester, illustrated by Carl Angel. $16.99. Gr. K–4.
From a tree "whose limbs were as thick as sorrow" to a mountain "which loomed like a memory no one could recall," Lester's folkloric world comes to life along with his powerful message: Always remember.
Realistic Fiction
Raymie Nightingale
By Kate DiCamillo. $16.99. Gr. 4–7.
Raymie, Louisiana, and Beverly all enter the Little Miss Central Florida Tire competition—for very different reasons. As each copes with her own bitter heartbreak, the Three Rancheros find strength and comfort in rescuing one another. Their friendship feels like a hug.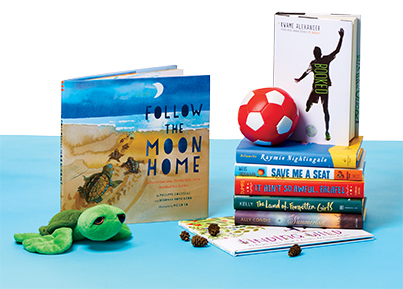 Booked
By Kwame Alexander. $16.99. Gr. 5–7.
"Alexander scores again, this time with a mix of soccer, family, first crushes, friendship, and poetry. As Nick struggles with divorce, bullying, and talking to the girl of his dreams, he discovers that reading can actually be cool." —Mary Ann Scheuer, teacher-librarian, Berkeley, CA
The Land of Forgotten Girls
By Erin Entrada Kelly. $16.99. Gr. 3–6.
Growing up in the Philippines, Soledad listened rapturously as her mother spun marvelous, magical tales. Years later, Sol uses these stories to brighten her little sister's dark days in Louisiana, where the two live with their stepmother. Vulnerable yet strong, flawed yet gold-hearted, Sol will fill you with warmth.
Finding Wild
By Megan Wagner Lloyd, illustrated by Abigail Halpin. $16.99. Gr. K–2.
A gorgeous meditation on the starry-eyed joys of nature, this lyrical picture book is sure to inspire many a pine-scented, sun-kissed summer adventure.
Summerlost
By Ally Condie. $17.99. Gr. 5–8.
A portrayal of grief that feels so real you could brush it with your fingers, Summerlost finds 12-year-old Cedar a year after the tragic loss of her father and brother. As she struggles to cope, she meets Leo, a theater fanatic whose friendship might bring back her smile.
Follow the Moon Home
By Philippe Cousteau and Deborah Hopkinson, illustrated by Meilo So. $16.99. Gr. K–3.
Distracted by the lights from beach houses, baby sea turtles are walking away from the water after hatching. With help from her class, Vivienne inspires the community to guide the little loggerheads home in this empowering picture book.
Save Me a Seat
By Sarah Weeks and Gita Varadarajan. $16.99. Gr. 3–7.
"This tale of friendship is told by two narrators with different points of view: Ravi, a new immigrant to America from India, and Joe, a kid in Ravi's fifth-grade class who is bullied because of his learning differences." —Abby Johnson, youth services manager, New Albany–Floyd County Public Library, IN
It Ain't So Awful, Falafel
By Firoozeh Dumas. $16.99. Gr. 5–7.
Eleven-year-old Zomorod is used to being the new girl with the funny name. When her family moves, again, she decides to go by "Cindy" and try to fit in. What follows is an honest, witty, and moving portrayal of what it means to be an Iranian immigrant in the late 1970s, during the Iran hostage crisis.
Nonfiction
Circle
By Jeannie Baker. $17.99. Gr. K–2.
Each year, the godwit sets flight on the longest migration of any animal, from Australia to the Arctic. Stunning collage illustrations.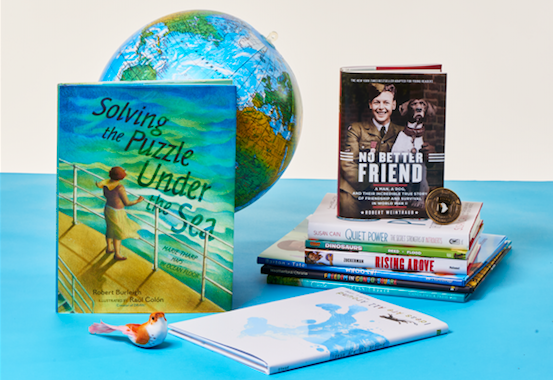 Solving the Puzzle Under the Sea
By Robert Burleigh, illustrated by Raúl Colón. $17.99. Gr. 2–4.
"A scientist in the 1940s, Marie Tharp prevails to uncover a significant scientific discovery, a deep rift in the ocean floor." —Alyson Beecher, K–8 literacy specialist, Pasadena, CA
Whoosh!: Lonnie Johnson's Super-Soaking Stream of Inventions
By Chris Barton, illustrated by Don Tate. $16.95. Gr. 1–3.
"The brisk storytelling and pictures transport us from the '60s through the '80s, as Johnson invents everything from rockets to robots to the Super Soaker water gun." —Brian Smith, RTI/PD facilitator, Newton, NC
Quiet Power: The Secret Strength of Introverts
By Susan Cain et al., illustrated by Grant Snider. $17.99. Gr. 5–8.
In this adaptation of Quiet, Cain blends stories of introverted kids who have achieved incredible feats—from becoming class president to sailing the world—with actionable tips (for teachers, too!).
Ideas Are All Around
By Philip C. Stead. $18.99. Gr. K–3.
Stead turns writer's block into the plot of this narrative picture book. Blending photos, illustrations, and text, he guides readers through a fun, frank lesson on writing.
Rising Above
By Gregory Zuckerman et al. $17.99. Gr. 4–7.
This collection of mini-bios about athletes who overcame major obstacles packs a powerful message—perseverance and passion pay off. Even non-sports fans will cheer for superstars like LeBron James and Stephen Curry.
Dinosaurs: Fossils and Feathers
By MK Reed, illustrated by Joe Flood. $9.99. Gr. 4–8.
This science comic introduces readers to the history of paleontology and our planet through language that's accessible to reluctant scientists. Action-packed illustrations.
No Better Friend
By Robert Weintraub. $16.99. Gr. 6–8.
Judy, a purebred pointer, forges an unbreakable bond with Frank, a radarman in Britain's Royal Air Force. As they tear through the heart-racing story, kids will learn about key moments in WWII.
Freedom in Congo Square
By Carole Boston Weatherford, illustrated by R. Gregory Christie. $17.99. Gr. K–3.
"Through simple, rhyming text and beautiful illustrations, this book describes 19th-century New Orleans from the perspective of slaves, who labor all week to find a brief but treasured freedom on Sundays in Congo Square." —Brian Smith
Magic & Mystery
The Wild Robot
By Peter Brown. $16.99. Gr. 3–7.
Roz the Robot will steal your heart in a tale of improbable families, forgiveness, letting go, and the perils of technology. The animals teach Roz how to let go and be wild, and she teaches them to step outside their prejudices. Animals, robots, and readers come away changed.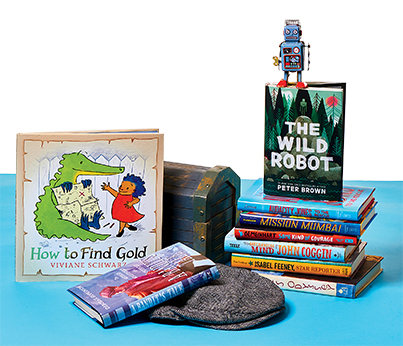 Isabel Feeney, Star Reporter
By Beth Fantaskey. $17.99. Gr. 3–7.
This absorbing middle-grade mystery rooted in rumble-tumble 1920s Chicago was inspired by real-life journalist Genevieve Forbes Herrick. Our teen heroine, Isabel, is a match for all she meets.
The Mechanical Mind of John Coggin
By Elinor Teele. $16.99. Gr. 3–7.
"A kid inventor runs away to escape the family coffin business in an adventure that blends the twists of A Series of Unfortunate Events with the essence of Roald Dahl!" —Jen Vincent, technology integration specialist, Mundelein, IL
Some Kind of Courage
By Dan Gemeinhart. $16.99. Gr. 5–8.
In this heart-wrenching adventure from the author of The Honest Truth, a grieving but resilient boy in 1890s Washington state sets off on an epic journey to retrieve the one thing left to him, his beloved pony. Along the way, he finds a friend, encounters prejudice, and battles nature.
Ollie's Odyssey
By William Joyce. $17.99. Gr. 2–6.
Part Despereaux, part Toy Story, with vivid fairy tale–esque illustrations, this wise and beautiful story of love and redemption introduces us to indelible characters like a brave bear-bunny named Ollie, and Zozo, an evil clown king whose broken heart, much like Roscuro's, causes him to do awful things.
Mission Mumbai
By Mahtab Narsimhan. $16.99. Gr. 3–7.
Vacationing in his buddy Rohit's home country of India, Dylan bungles his way into one mishap after another, starting with sacred cows. Serious themes of class and family dysfunction underpin this good-natured novel.
Audacity Jones to the Rescue
By Kirby Larson. $16.99. Gr. 3–6.
"Audie Jones, an orphan at Miss Maisie's School for Wayward Girls, yearns for the adventures she reads about. You'll root for Audie as she discovers things are not always the way they appear to be." —Katherine Sokolowski, grade 7 teacher, Monticello, IL
A Bandit's Tale
By Deborah Hopkinson. $16.99. Gr. 3–7.
In this page-turning historical novel covering children's welfare and animal rights, an indentured Italian boy fights to survive in 1880s New York, and keep his principles intact.
How to Find Gold
By Viviane Schwarz. $16.99. Gr. K–2.
When Alligator tells Anna it will be "dangerous and difficult" to find gold, she replies, "Good!" or "Let's go!" The rhythm of the dialogue and the bright, childlike drawings delight.
Picture Books
Thunder Boy Jr.
By Sherman Alexie, illustrated by Yuyi Morales. $17.99. K–4.
Exuberant illustrations pair with pitch-perfect text in this gem of a book in which our pint-size hero insists he doesn't want to be a Jr. He could be…Not Afraid of Ten Thousand Teeth or Can't Run Fast While Laughing or Star Boy! His dad steps in with the perfect solution.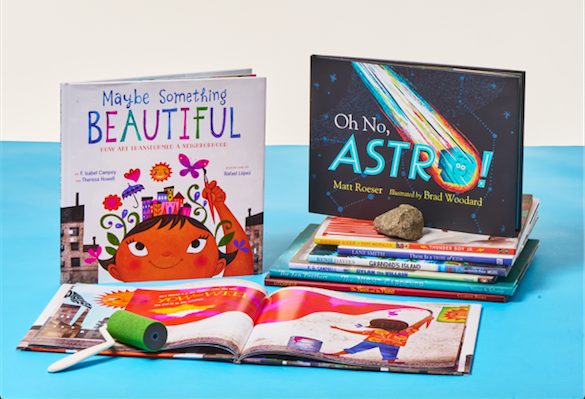 Maybe Something Beautiful
By F. Isabel Campoy and Theresa Howell, illustrated by Rafael López. $16.99. K–2.
"A vibrant jolt of color, energy, heart, and hope, this lively story of a neighborhood's transformation from drab to fab will make young readers smile." —Betsy Bird, collection development manager, Evanston, IL
The Bear and the Piano
By David Litchfield. $16.99. K–2.
A bear living in a luminous forest stumbles upon an old piano. He learns to make "magical melodies" and is beloved—until he's lured to play on Broadway. Bear enjoys the adventure (and acclaim), but something is tugging at his heart, and so back to the forest he goes.
Grandad's Island
By Benji Davies. $16.99. K–2.
From the attic, Grandad and Syd embark on an amazing adventure to a place with cool breezes, flocks of colorful birds, and a shipshape shack. When it's time to leave, Grandad tells Syd he will be staying. A beautiful, sweet story about dealing with death.
There Is a Tribe of Kids
By Lane Smith. $18.99. K–2.
This evocatively drawn picture book takes us from an "unkindness of ravens" to a "smack of jellyfish" to a "tribe of kids," all while learning the names of groups of animals, among other things.
The Night Gardener
By Terry Fan and Eric Fan. $17.99. K–3.
"By sharing his gift for landscaping, the Night Gardener brings magic to an otherwise dull place and gives one boy hope for his future. From cover to cover, a lovely visual experience." —Cynthia Alaniz, elementary librarian, Coppell, TX
Dylan the Villain
By K. G. Campbell. $17.99. K–2.
A villain from birth, Dylan is sure he'll have no real competition at Astrid Rancid's Academy for the Villainous & Vile—until he comes up against the blue-haired, truly "demonic" Addison Van Malice, who defeats him at every turn.
Oh No, Astro!
By Matt Roeser, illustrated by Brad Woodard. $17.99. K–3.
Astro the Asteroid wants to stay snug in his own orbit—but when he's struck by a satellite, he takes a whirlwind trip through space, hurtling past planets and moons, until crash-landing on Earth and into the arms of a new pal. Includes select space facts.
Click Here to Subscribe to Scholastic Teacher Magazine
Photos: Adam Chinitz