All it takes is one distraction: A child who is having a bad day. A struggle to switch gears after recess. A few wasted minutes searching for the pencils that you could have sworn were on your desk. The next thing you know, the period is over and you're only halfway through the day's lesson.
It's a problem nearly every teacher has faced. How do you teach your students all they need to learn when half of your time, energy, and (let's face it) sanity is spent making sure your classroom is running smoothly? To find out, we turned to the experts: you.
We asked teachers to share their most creative strategies for controlling classroom traffic, managing behavior, helping students stay organized, and easing transitions. Your tips ranged from practical solutions to everyday problems—like turning a cookie sheet into an attendance tracker—to innovative hacks for maximizing learning time, such as making task cards to use while walking from one room to the next!
Traffic Control
1 | Hands Up
Do all of your students need you—at once? Create this sign. "Kids who want my attention clip their names to the sleeve, and I work my way down. As I finish with the top student, he or she moves the clothespin back to the base and sends the next student to me."
—Erin Beattie, grades 2–3, Kingston, Ontario. Blog: Mrs. Beattie's Classroom
2 | Flip to It
Assessment tags help teachers "see who understands a concept and who needs assistance." Place a set of tags on each desk. Then, ask students to flip to the one that fits: "I'm stuck," "I may need help soon," "Good to go," or "I'm done." Kids flip the set over to assess themselves on a scale from 1 (novice) to 4 (expert).
—Ronnie Eyre, grade 5, Boynton Beach, Florida. Blog: A Teacher's Wonderland
3 | Inquisitive Minds
"[My 'Question of the Day' board] takes attendance for me and has my kids reading first thing in the morning!" Make a T-chart with columns for "yes" and "no" on a cookie sheet or drip pan. Tape a new question at the top each day. "Kids place their [magnetic] name cards under 'yes' or 'no' for their answer to the question."
—Elyse Rycroft, grades 1–2, Burnaby, British Columbia. Blog: Proud to be Primary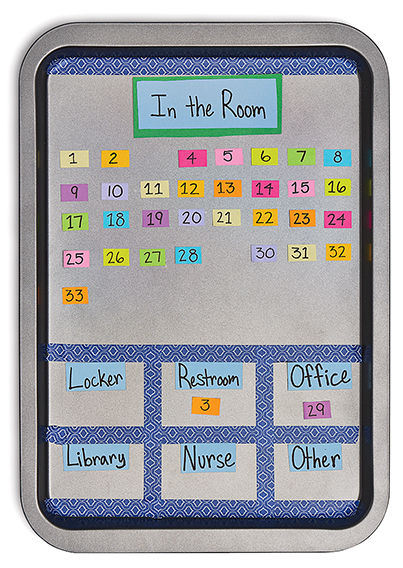 4 | Cheat Sheet
"I created this student locator to keep track of where my students are in case of an emergency." Students are each assigned a numbered magnet. When they leave the room, they move the magnet to the appropriate location, such as the restroom or the nurse's office. —Danielle Krantz, grade 7 pre-AP math, Richmond, Texas. Blog: Live, Love, Math
Setup and Supplies
5 | Don't Miss Out
Help absent students stay up-to-date and organized by creating "We Missed You" folders, complete with a friendly note and directions on how to catch up. Place the folder on the absent student's desk. Then, slip each handout and homework assignment that you pass out in class while the student is away into the ­folder. —Katie Brockmeyer, grade 2, Bentonville, Arkansas. Blog: Building a House of Love
6 | Visual Aids
"It can be so time consuming to answer questions like 'Can we use markers?' 'Do we turn this in?' or 'Is this a talking activity?'" Instead, create visual directions to reference throughout the lesson. "Once I give directions for an activity, I quickly place checks and X's by the cards, and my students know exactly where to look for the answer." —Marisa Curtis, K–5 instructional coach, Heartland, Texas. Blog: First Grade Glitter and Giggles
7 | Caddy Sack
Seat sacks and table caddies help students keep supplies organized and within reach. Store frequently used books and notebooks in seat sacks, and fill caddies with supplies, such as pencils, scissors, and glue, for small groups. —Corinna Gandara, grade 2, Haleiwa, Hawaii. Blog: Surfin' Through Second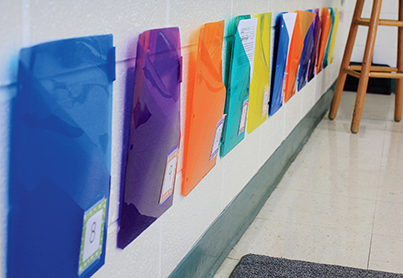 8 | Wallpaper
"I've battled the paper monster since my teaching career began." The solution? Assign each student a number and glue the number to a slash-pocket divider. Attach the dividers to a wall. "Kids place their work in the pocket with their number on it. In one glance I can see who didn't turn in homework."
—Courtney Slemp, grade 1, Coeburn, Virginia.
Blog: Polka Dot Lesson Plans
Transitions
9 | Mic Check
To transition from chaos to quiet, hang a sound-check chart. Clip a clothespin to the "volume level" for the activity. Then, clap your hands twice and say the new level. Students respond by clapping twice and saying, "Okay!"—Colleen Alaniz, grade 2, Corpus Christi, Texas. Blog: Totally Terrific in Texas
10 | Walk and Talk
"Task cards are a fun way to review concepts while transitioning to a new task. I typed up 48 prompts to review with my students." Questions range from "Tell me about the first sound in ___" to "Count to 20 starting at ___." "After my students line up for the next activity, I pull a card out of the basket and read it aloud. Students answer chorally while moving to their next spot." —Hadar Hartstein, kindergarten, Irvine, California.
Blog: Miss Kindergarten
11 | Star Power
Use Velcro "sit spots" (Gandara's are star-shaped) to help kids line up. "I have two rows next to each other. Kids know exactly which star is theirs—it's a huge time-saver!" —Corinna Gandara
12 | Homeward Bound
To avoid dismissal madness, fill out "How I Go Home" cards, using different colors for bus riders, walkers, and after-school programs, and secure them to kids' backpacks. —Susana Maria Nicolau, former grades 2–3, Killeen, Texas. Blog: Brinca Into Bilingual
Behavior Busters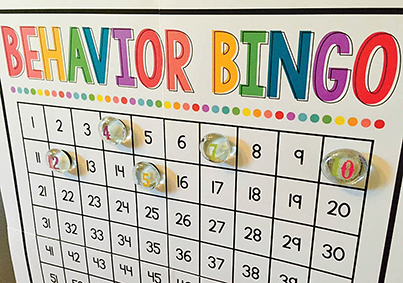 13 | Class BINGO!
Reward good choices by playing whole-class Bingo. First, attach a 25- or 100-square game board to your whiteboard. Throughout the day, invite well-behaved students to pick a numbered magnet and place it over the corresponding square, if there is one. When the class gets "bingo!" kids get a reward.
—Ashley Sharp, kindergarten, Kawkawlin, Michigan.
Blog: One Sharp Bunch
14 | Secret Identities
Write each student's name on a popsicle stick. Draw one stick on any given day—but don't reveal whose name is on it. All day long, keep an eye on your "Mystery Hero" and share how he or she is doing. If the Mystery Hero has a great day, announce his or her name and give the class a small prize. If not, talk to the student at the end of the day. "The kids have no clue who I'm talking about, so they all try their best." —Emily Summa, grade 4, Tracy, California. Blog: I Love My Classroom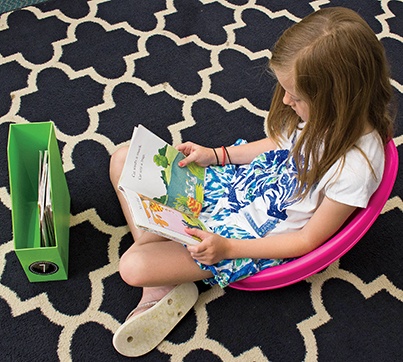 15 | Seat Swap
"Alternative seating provides just the right amount of movement and motion needed by some of our little learners." Try scoop rockers or T-stools for kids whocan't stay still. With the T-stool, students must focus on keeping their feet on the floor to stay upright.
—Ashley Sharp
16 | Stop Sign
Instead of calling attention to bad behavior, hand out stop signs that read "Please stop what you are doing and make a better choice!" "These cards are the perfect way to help students begin to self-monitor. I place one on a student's desk, and right away he will think about his behavior."
—Christina Bainbridge, K–2 principal, Constantine, Michigan. Blog: Bunting Books
17 | Go to Australia
In Alexander and the Terrible, Horrible, No Good, Very Bad Day, the title character longs to escape to Australia. To harness this idea, print copies of the Australian flag and hang them in your room. When kids are having a "bad morning/recess/undisclosed mental emergency," they place a flag on their desks to signal that they need a few minutes of leniency. "These work especially well for shy students." —Katie Smith, grade 2, Portage, Michigan. Blog: I Want to Be a Super Teacher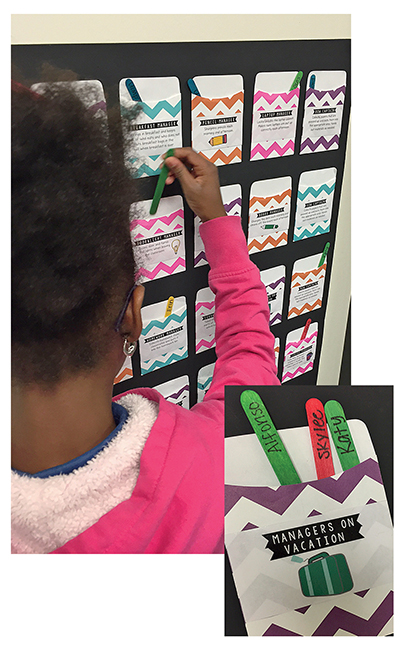 18 | Call the Manager
For a twist on classroom jobs, make your students "managers" and invite them to apply for their roles. "The title makes kids feel important, and they love applying [by placing their name in a pocket and then interviewing for the role]!" Switch jobs occasionally so each helper gets his or her first choice once.
—Katie Assad, grade 4, Galveston, Texas.
Blog: Rock and Teach
Click Here to Subscribe to Scholastic Teacher Magazine
Photos (from top): Corinna Gandara, Courtesy of Erin Beattie, Adam Chinitz,Courtney Slemp, Courtesy of Ashley Sharp, Katie Assad