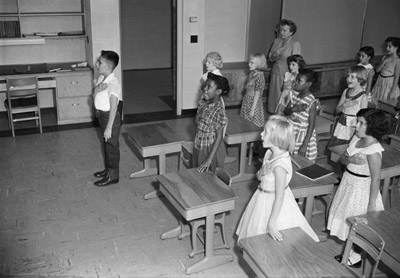 The struggles and successes of many African American personalities, from civil rights leaders to children's authors, are rich fodder for classroom discussions and student research. Try these activities to inspire your students in the arts, sports, literacy, and more.
Arts
On the Block
Romare Bearden was a prominent collage artist based in Harlem. Share images of his work with kids by visiting the Romare Bearden Foundation website, then click on Education Resources to explore ways to incorporate Bearden's work in your classroom. Begin by inviting small groups to make a collage of their neighborhood in the style of Bearden's The Block.
Story Quilts
The women of Gee's Bend, Alabama, created quilts that told stories. Read about them in Patricia McKissack's book Stitchin' and Pullin' and view photos from Auburn University. Then have students create quilted squares that, when put together, tell a classroom narrative. Read Meghan Everette's blog post Celebrate Black History With Gee's Bend Quilts for inspiration!
Jazz Clouds
Pay homage to great African American jazz musicians, such as Louis Armstrong, Dizzy Gillespie, and Duke Ellington, by reading This Jazz Man by Karen Ehrhardt. Then listen to their music and have kids free-write phrases to describe how the music makes them feel. Type the words into wordle.net to make a colorful "word cloud" that represents jazz music.
Twelve-Bar Blues
Teach your class about the historical and cultural significance of the blues, which is steeped in slavery and work songs. Help your students brainstorm things that might give them "the blues." Teach your students about the 12-bar structure of the blues with the lesson plan from The Blues Classroom from PBS.
Literacy
Character Interviews
Have students work in pairs to research African American children's book authors, such as Christopher Paul Curtis, Julius Lester, Patricia McKissack, Walter Dean Myers, Faith Ringgold, and Mildred D. Taylor. Then ask each pair to simulate a Q&A between the author and one of his or her characters — with the character asking how and why the book was written.
History
Schools of Many Colors
Learn about school desegregation by reading The School Is Not White! by Doreen Rappaport. Then share President John F. Kennedy's quote, "When Americans are sent to Vietnam or West Berlin, we do not ask for whites only. It ought to be possible, therefore, for American students of any color to attend any public institution..." Discuss how this statement reflects what happened in the book.
Wax Museum
Have students study an African American historical figure, then dress up as their subject, adding an identifying name tag. Invite visitors to your "wax museum" to press imaginary buttons and bring the statues to life!
Trip for Freedom
Take an interactive trip on the Underground Railroad. Read Fannie Moore's personal story and answer the questions about what it might have been like to be in her shoes. Kids can also write letters using the secret code of the escaped slaves.
Stand Up for Rosa
Rosa Parks was tired of injustice the day she refused to give up her seat on the bus. Introduce her to students by reading Rosa by Nikki Giovanni. Have students each write a poem celebrating the bravery in her action.
Slavery in New York
The South was not the only place that had a slave population. Slavery existed in the northern states, too. Visit the New York Historical Society's "Slavery in New York" exhibit online, which explores the vital role the slave trade played in making New York one of the wealthiest cities in the world. Have students discuss what New York might be like today without this history.
Government
Hope Boxes
Nikki Grimes authored Barack Obama: Son of Promise, Child of Hope prior to President Obama's November 2008 election. Discuss the concept of hope, which is a central theme of Grimes's book, with your class. Then have each child create a small hope box out of cardstock. Fill the boxes with hopeful messages and affirmations.
Sports
Gold-Medal Math
Wow your class with stats about Jesse Owens, the first American in Olympic track and field history to win four gold medals in a single Olympics. Have kids use math to determine how many meters per second he ran during his gold-medal races.
A Baseball Great
Read Myron Uhlberg's book Dad, Jackie, and Me, the story of a white man and his deaf father who vigorously supported Jackie Robinson in 1947 when he became the first African American baseball player in the major leagues. After reading the book and the author's note, discuss the ways in which Robinson and Uhlberg's father overcame prejudice to prove their abilities to others. Consider projecting the images from the end pages, which contain original newspaper clippings about Robinson.