3 Ways to Teach a Book
Three teachers come up with unique lessons using the book The Sun Is Kind of a Big Deal, by author Nick Seluk.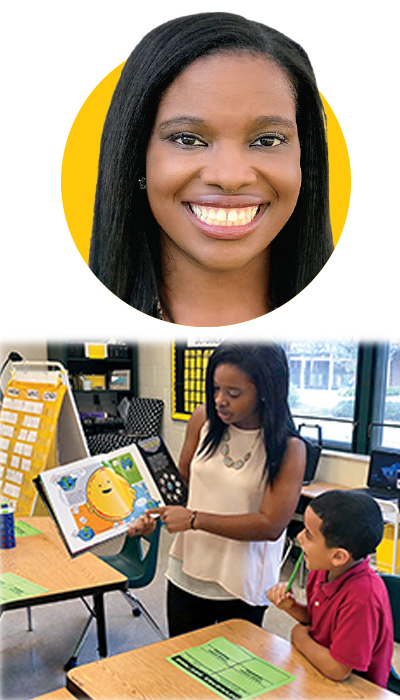 Tap Into What They Know, Create an Outer-Space Creature
Natalie James
Grade: 2
School: Highlands Grove Elementary, Lakeland, Florida
One lesson I came up with using the book is "Learning Is Out of This World." To introduce this fun-filled book, I show students the cover poster that comes with it and give them a picture-of-the-day assignment. They work with a partner to infer and make observations, which activates their prior knowledge of outer space, and we then record the information on a KWL anchor chart.
After introducing the book in this way, I give the kids time to look at it alone. I then tell them they will be doing additional research on their own to create an outer-space creature that could survive on the sun. This project requires students to construct a survival guide for their creature. They need to answer the following questions within their guides, utilizing details from the text to support their answers:
·      What would your outer-space creature's basic needs be?
·      What would it need to carry in its survival pack?
·      What would you create for your creature to eat and wear?
Through this book study, my students learn to independently identify and support, with details, the essential attributes and functions of the sun. The book successfully fits into several content areas, including language arts, science, and developing critical thinking skills.
Photos: Courtesy of Natalie James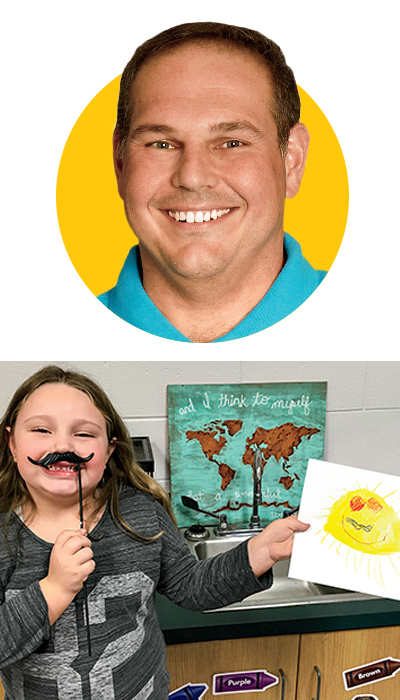 Big Questions With Silly Starters, Playground Orbit
Brian Smith
Grade: kindergarten
School: Wittenburg Elementary, Taylorsville, North Carolina
I call my first idea "I Mustache You a Question." I'll share questions and answers about the sun and planets from the book to introduce the idea of how to ask interesting questions. Then, kids draw a picture of the sun, complete with a mustache! I'll give them a few minutes to think of a question they'd like to ask after hearing me read the book. Each student then brings his or her picture up to show the class and says, "I mustache you a question about this book," and asks the question.
The way Nick Seluk describes the planets as being on "a big racetrack in space" gave me an idea I call "What's Your Orbit?" I draw a chalk circle outside, adding eight concentric circles with about a foot between each. The center circle is the sun, and the assigned student will stand there, while eight other students, each designated as one of the planets, circle the sun at various speeds, depending on their orbit. For example, Earth will simply walk around the sun at a normal pace, while Mars will be asked to skip. We'll discuss what we've noticed and then switch places. I give each student as many orbit experiences as possible, so they can see how a planet's "year" differs in relation to how quickly each travels around the sun.
Photos: Courtesy of Brian Smith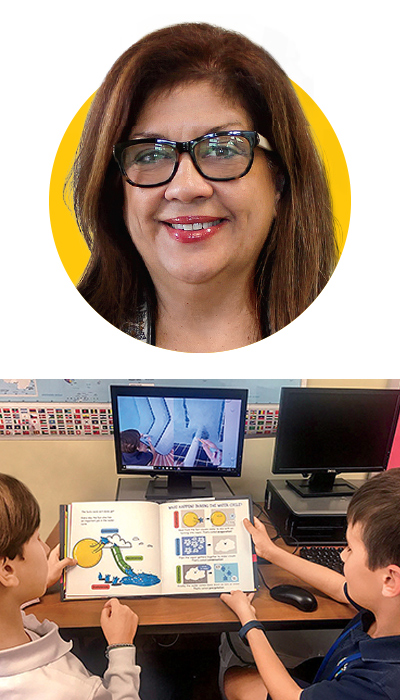 Learning Through Maps and Broadcast Shows
Marlem Diaz-Brown
Grade: 4
School: Sunset Elementary, Miami
Prior to my students reading the book, I hand out index cards and give them five minutes to write down everything they know about the sun. Then, I pair them with a buddy to discuss and share with the class. As I write down their suggestions, I probe kids about the size of the sun and its relationship to the planets, including Earth. I then read the book aloud, pausing to touch on students' prior knowledge.
Next, they reread the book and write at least three additional facts they've learned about the sun. I assign partners and, using the QAR (Question-Answer Relationships) strategy, I have them come up with two types of each question and share.
In the Book: Right There Question
In the Book: Think and Search
In My Head: Author and Me
In My Head: On My Own
Lastly, I assign small groups to complete one of the following projects.
·      News Broadcast Show: Create a news team with the following characters: Mr./Ms. Big Deal, The Sun; Mr./Ms. Earth; Mr./Ms. Moon; Mr./Ms. Asteroid. The sun will be the main news anchor, and he or she will report on how Earth was warmed up today, how it provided light to so many, and how many trees grew because of photosynthesis.
Mr./Ms. Earth will report on the present weather and its atmospheric conditions, thanks to the sun. Mr./Ms. Moon will report on "today's solar eclipse." Mr./Ms. Asteroid can report on traveling around space noticing celestial bodies and other happenings.
·      Map of the Solar System: On chart paper, draw the solar system. Students give each celestial body a caption and fact about its position relative to the sun. They also research distances between the planets and the sun and include a map key in their illustrations.
Photos: Courtesy of Marlem Diaz-Brown
Click Here to Subscribe to Teacher Magazine
Appears in These Collections
From Scholastic Teacher Magazine
From Scholastic Teacher Magazine