ABC and Word Study Center
The ABC center provides a place for children to practice any word study lessons you have previously taught.
Organization and Routines
Designate a Space — This center is most successful when it is set up at a student table, because this gives children a place to write and allows them easy access to table supplies, such as scissors, glue, markers, and crayons.
Post an Alphabet Chart — Since children work a great deal with letters and sounds at this center, I like to post an alphabet chart near the table for them to use as a reference.
Storage of Center Materials — I provide paper for children to write on as well as magnetic letters for children to manipulate as they work. I store these materials in baskets or bins on the shelf near the center.
ABC Center in Motion
The possibilities for ABC center activities are endless! In my classroom, the ABC center changes weekly. I teach a particular word principle for a week, and once students grasp the concept, I know they are ready to practice it independently at the ABC center. It's important for children to have experienced the center activity before I ask them to do it independently.
Writing and Handwriting Center
Themed stationery, storytelling bags, and engaging photographs are some of the ways I try to motivate students to write at the writing center. In addition to writing, I want my students to work on their handwriting skills. I have them practice letter formation during center time at least once a week. This center works best if set up at a student table.
Organization and Routines
Designate a Space — This center works best when set up at a student table because it gives students full use of the supplies buckets that are already stored there. Students will need to use pencils, markers, crayons, scissors, and glue.
Organize Writing Paper — In order to maximize the use of space, you may want to use paper tray stackers to hold different kinds of writing paper. I keep vertically lined paper, horizontally lined writing paper, and writing stationery. I also have construction paper available for students to create their own books. You can also supply themed stationery. As each season or holiday comes around, change the paper.
Create Writing Center Rules — Work with children to create rules or steps to follow at the writing center. Be sure to keep the language simple and to post the rules so children can easily refer to them.
Provide Resources — Your students may need some resources to support their ability to work independently. For example, you may want to post a copy of an alphabet chart, or you may want to provide a copy of the word principle that you are currently working on. Ready references such as these will encourage your students to practice the lessons that are being taught in the classroom.
Writing Center in Motion
At this center, children follow the rules that we created together. To motivate children, I often make use of outdated calendars. The photos from these calendars can spark writing ideas for a creative story. Calendars with different themes and photographs are sure to meet the many interests that many children may have. Most children choose to create their own illustration before they write.
Poetry Center
Poetry, with its rhymes and rhythms, is a wonderful way to get children exploring language. At this center, children have a chance to respond to poems we have read during shared reading, and to practice reading the poems on their own.
Organization and Routines
Designate a Table — I set up my poetry center at one of the student tables. Children need to use scissors, pencils, and crayons at this center, so having supplies already available is very helpful. I also place two baskets on the shelf at this table — one for copies of the poem that children will work on, and the other for children's poetry notebooks.
Choosing Poems for the Centers — The poems I place in the poetry center are ones I have previously introduced during shared reading. I find that it's important for children to have a clear working knowledge of the poem and to be able to read it independently before it is placed in a center. In addition to the copies I have for students, I hang an enlarged version of the poem near the center for children to refer to and read.
Poetry Notebook — Each child has a poetry notebook. These notebooks are stored on the shelf next to the poetry center table. This gives students easy access to their notebooks during center time. On the cover of the poetry notebook, I include the student's name and a label to make the notebook easy to locate.
Copies of the Poems — Children paste a copy of the week's poem into their notebooks. Be sure the copies of the poem you provide are small enough to fit in children's notebooks. After pasting the poem in their notebooks, children create an illustration that reflects the content of the poem. When they are ready, you can ask them to respond to the poem in writing to show that they have understood it.
Poetry Center Rules — Again, work with students to create rules for the poetry center. Once you have created these rules, post them near the center so that children can use them as a reference. Be sure to use simple language and include pictures whenever possible.
Poetry Center in Motion
Children begin by cutting out the poem from the sheet I've provided. I always include a box around the poem so children have lines they can cut along. Cutting out the poem also gives them an opportunity to practice fine-motor skills.
Next, they glue the poem into their notebooks. They should glue the poem onto one left page of a two-page spread. On the opposite page, children can illustrate and respond to the poem. Illustrating the poem enhances children's comprehension of it, while helping them develop their drawing skills. I have them draw in pencil first, and then color the illustration.
Once students can confidently illustrate their poems, I invite them to respond to the poems in writing. As the year progresses, I increase the difficulty of the types of responses I expect. This scaffolds their learning and both deepens and strengthens their comprehension of poetry.
Art Center
The art center gives your students an opportunity to strengthen their fine-motor skills and develop their illustrating capabilities.
Organization and Routines
Designate a Space — It is best to use one of your student tables for this center because the supplies buckets will be needed.
Supply Shelf — Other center supplies are stored on the top of the shelf nearby. Here I keep a bucket for paper that I want students to use for their artwork. Early in the school year, you may choose to have students focus on the illustrations. Later in the school year, you may want to have children add writing to match their illustrations. In another bucket on the supply shelf, I store the directions sheet for the center. Each week, the children learn how to draw a new object by following multi-step directions. I always encourage children to draw with a pencil first in case they make a mistake. Each week, after children have visited the center and completed the illustration, I add the directions to a special "illustration box" in the classroom. Children can then use the directions as resource when they are illustrating something during writing workshop.
Art Center in Motion
Here students work to follow the multi-step directions to create self-portraits. Once students complete the portrait, they can write about their illustration.
Listening Center
At this center, children can listen to books on tape as they follow along in the text.
Organization and Routines
Materials — You will need an audio player, books, and persoal or professional audio recordings of the books. You might also want to have headphones. It's important to have several copies of each book at the center, so that each student can follow along in his or her own book. If your children are ready to write in response to their listening, provide a basket in which to store the response sheets. Also provide supplies such as pens, pencils, markers, and crayons
Designate a Space — I set up my listening center at a table in a corner area, so that any sound issues are minimized.
Listening Center Response — You can have your students complete a response after listening to the story. In the early literacy stages, I ask children just to illustrate their favorite part of the story. As the students become more-independent writers, I invite them to write in response to the stories that they read.
Create Listening Center Rules — You can work with your students to create rules or steps to follow when at the listening center. Be sure to keep the language simple and post the rules nearby. Use picture symbols whenever possible.
Designate Listening Center Jobs — One of the problems that teachers often face at the listening center is that children argue over who will press play, and who will press stop. In order to prevent this, you can designate these roles. I also post a chart and use clothespins with a red or green star to indicate who has which job. I rotate the jobs each time a group goes to the center.
Post Job Reminder — To help children be more independent in this center, post a reminder of what the green star and the red star mean.
Tip: If you decide not to have children use headphones, be sure that the volume is adjusted so that students at the center can hear, but it won't disrupt children at other centers.
Listening Center in Motion
At the center, children choose a book on tape. After listening to the book, they complete a response form. When rules and routines are clearly stated and modeled, children know how to use this center appropriately.
Buddy Reading Area
At the buddy reading center, children work in pairs, taking turns reading a book to each other.
Organization and Routines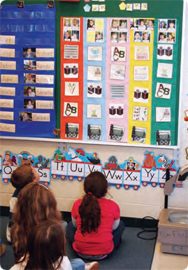 Choosing Buddies — In the first row on my literacy center board (see pages 16-17), I place a card that lists the names of the children who will visit the center that day. (In kindergarten, I also include photos of students.) I list the names in a way that makes it clear who the pairs are. I find that assigning buddies, rather than letting children choose their own partners, alleviates potential problems. I usually change the buddy pairs once a month so that children have the opportunity to work with many different buddies throughout the course of the school year.
Buddy Reading Library — This center requires an area for storing and organizing appropriate books as well as children's buddy reading folders. I organize the books in my buddy reading library in baskets on shelves. I often separate them by theme, genre, or author.
Buddy Reading Library Book Baskets — Be sure to clearly label the baskets of books in your buddy reading library. I use icons to represent the types of books in each basket. I also print the icons onto stickers and affix them to the books. This helps students return the books to the appropriate basket, keeping the library organized.
Buddy Reading Rules — In order for my students to have a good understanding of what is expected during buddy reading time, we brainstorm rules for this center, using interactive writing. Tip: I always invite children to help create the rules for all our centers. When students are involved in creating the rules, they become much more invested in the routines — and the centers run more smoothly.
Logging in Buddy Reading Books — In order for students to be accountable at this center, I ask them to record the title and author of each book they are reading. Each student is given a buddy reading folder with the buddy reading icon on the cover, his or her name on the tab, and a reading record sheet stapled inside. (See Appendix E.) Each time a student completes a sheet, I staple a new one on top of it. By the end of the year, students have a clear record of the books they have read during buddy reading. When students are ready to respond to their books independently, I have them complete a reading response activity, and then file it in on the other side of the file folder.
Housing Buddy Reading Folders — It is important that your students' buddy reading folders be easy to access. I clearly label this basket and store it within the buddy reading library.
Buddy Reading in Motion
Here's how buddy reading works:
Buddies visit the buddy reading library to select a book. Both children select a book so that they will share two stories. Since each child is given the opportunity to choose a book, there are no arguments about who will pick a book.
Once each child has selected a book, the pair looks for a quiet place to read together. I model for them how to pick a spot to read. They should look for a space that does not have a lot of other children around. It should be a quiet area with minimal distractions.
Once they have found a quiet place to read, students can work together to decide which book they plan to read first. I expect children to sit in a way that is conducive to sharing their books. For instance, the children in the photo are sitting side by side and holding the book between them.
Early in the year, children may not be independent readers yet. During buddy reading, I have children work together to tell the story through the pictures in the book if the words are too difficult. This gives them a sense of confidence and the opportunity to independently enjoy challenging picture books. This process also helps build the students' sense of story — and develop their love of books.
Once the buddies have completed both books, I have them write the title and author of the books they have read in their buddy reading folder.
Independent Reading Area
Giving children time to read independently is an important part of my literacy program. My independent reading center includes lots of books at a range of reading levels.
Organization and Routines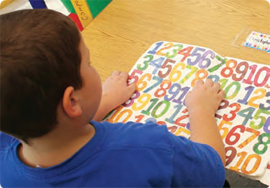 Independent Reading Library — In order to monitor children's independent reading, I find it helpful to level the books in my library. I want children to have the opportunity to select a book that is just right for them, so I put books at a range of several levels within a basket, giving children the chance to make an appropriate choice. For instance, I place books at guided reading levels A–E in red bins, levels F–I in orange bins, levels J–L in yellow bins, and levels M–N in green bins. I may also choose not to put bins out if I do not currently have children reading at those levels.
Guiding Your Students — Students need a way to know which basket has an appropriate range of books for them to read. To help them with this, I post a class list in a clear plastic photograph frame. Next to each child's name, I color in a dot that represents the basket that is appropriate for them. This list is flexible, of course, changing as the year progresses.
A Closer Look at the Independent Reading Chart — This row helps Ramona know which bin includes appropriate books for independent reading. By looking at the chart, she will be guided to either the orange or yellow bin to select books to read.
Housing Independent Reading Folders — Students will need to know where to find their independent reading folders in order to make this center run smoothly. I keep the independent reading basket above the independent reading library, next to the class list that notes which basket they should select books from.
Logging in Independent Reading Books — As I did with the buddy reading center, I want students to be accountable for completing their reading. Each student has an independent reading folder that I create out of a pocket file folder. In the folder, I include a sheet for recording the titles and authors of the books he or she reads. (See Appendix F.) I put the independent reading icon on the cover, along with the child's name on the tab, and inside I staple the log sheet. Each time students complete a sheet, I staple a new one on top of it. This way, they have a clear record of the books they have read independently throughout the year — and having a list of all the wonderful books they've read is a source of pride for students! On the other side of the file folder, students can store any reading response papers they complete when they're ready to do this kind of work independently.
Independent Reading in Motion
During independent reading, the first thing students need to know is how to check the independent reading chart to see which bin is appropriate for them. Show them how to find their name and how to match the color of the sticker to the sticker on the appropriate basket. Next, have your students look through the appropriate baskets in order to select a book that is just right for them to read on their own. Once a student has selected a book to read independently, he or she should look for a place to read. I encourage students to look for places that are quiet and away from distraction so they can concentrate on their reading.
Guided Reading Center
As children are working independently at centers, I'm working with one group, doing guided reading.
Calling Reading Groups
Since guided reading groups are meant to be flexible, student membership in these groups changes as children's needs change. Therefore, the children you call to the reading table may be different from week to week. To get the attention of my class in a way that is not too intrusive, I ring a soft bell. The children know that when they hear the bell, they need to put their eyes on me.
I then hold up a reading group calling card that lists the names of children who will be meeting with me. If students see their name, they need to clean up their work and join me at the table. If they do not see their name, they continue with their work. I have discovered that if I call children in the least intrusive way possible, they are more likely to continue their work at an appropriate voice level.
Tips: Laminate each of your guided reading group calling cards. Then use a dry-erase marker to write the names of the children in that group. This enables you to erase and easily change the names as your groups change throughout the year.
Rain Stick: While students are working at their centers, they may need a gentle reminder to keep their voice level at a whisper. I remind them by using a rain stick. It has a very soft "shushing" sound that helps children stay on task.
Center Lights: In my classroom, I have three light switches, each one controlling a different set of lights. I always ask a child turn off two of the three light switches right before center time. The first time I do this, I mention that dim lighting creates a soothing atmosphere. This soothing atmosphere gives children another visual reminder of the voice level they should be using.
Instructional Tools
As I work with a guided reading group, I want all the other children in my class to be learning at centers — and to move from center to center independently. To make sure this happens, I developed what I call our "literacy center board." At the top of the board, there is a card with a list of children's names — for my class, I have five cards, with the names of four to six children on each one. These cards tell children who is in each group. Beneath each list, place four cards, each with a center icon on it. This makes it very easy for each child to figure out independently which center he or she should be working at, and when.
Here are some possibilities for creating a literacy centers board.
Magnetic Blackboard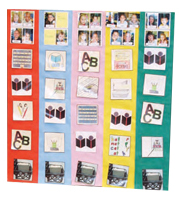 The magnetic wall center is another place where word study concepts are practiced.
Organization and Routines
Designate a Space — Take a look around your classroom to see whether there are any magnetic surfaces. In some classrooms, the heating/cooling unit has a magnetic surface. You can also hang a magnetic white board low to the ground for children to use as a center. You might even be able to square off a section of your blackboard to be used as a magnetic wall center. If you are having trouble finding a space, you can have the children use small magnetic boards on the carpet, giving each child his or her own board to use for the activity.
Storing Materials — Make sure you have all materials nearby. I have a shelf near the center on which I store individual bins, cups of markers, and a paper sorter to hold any papers students need to complete.

Magnetic Wall Center in Motion

At this center, students can practice building the words that they are learning in class. These words might be high-frequency words or words with similar spelling patterns or vowel sounds. Always remind students to build the words from left to right, just as they would when writing. I keep markers in the colors that match the magnetic letters nearby for any written activities associated with the center. Children love to record their word by using the same colors as the magnetic letters.
Pocket Chart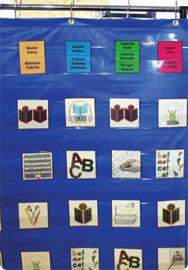 The pocket chart center can be used for a variety of activities. Sometimes I use it as another way to support children with a word study lesson. I also use it with poetry. On sentence strips I write words or phrases from a poem we've read in shared reading. Students can then manipulate and read the words in poems, using the pocket chart. Also, once a poem has rotated through the poetry center, I may move it to the poetry pocket chart.
Organization and Routines
Designate an Area — For the pocket chart center, choose an area in your room where you can hang a pocket chart that students can use daily. A pocket chart stand might work, or you can try to find a way to adhere the chart to a wall. The pocket chart shown in the photograph is drilled into the concrete wall in my classroom, but I have also stapled the pocket chart to the wall when my classroom didn't have concrete walls. Be sure that the pocket chart is at eye level and can be reached by all students. Also keep in mind that the center area needs to have enough open floor space for children to be able to spread out the sentence strips in order to piece the poem together.
Storing the Letter Cards and Word or Sentence Strips — I have found that the best way to store the materials students will use in the pocket chart is in a manila envelope. I cut off the top of the envelope, punch holes in the corners, and use yarn or string to hang it nearby. You can also hang the envelope on a hook, a thumbtack, or a hat rack. When using the center for word study activities, you can write the directions for the activity on the front of the envelope. If students are working with poetry at the center, print a copy of the poem on the outside of the envelope. This will give your students the opportunity to self-check their work and correct any mistakes that they have made.
Pocket Chart Rules — With your students, write rules for your pocket chart center during shared or interactive writing. Make sure that the language is simple, and have children reread the rules each time they go to the center. You may need to change the rules depending upon what kind of activity the children are using the pocket chart for. The rules in this photo are for organizing word strips in a poem, and then finding consonant blends in the poem.
Pocket Chart Center in Motion
These photos show children using the pocket chart to figure out the order of words in a poem. I always encourage children to build the poem from left to right to develop reading skills. I hang the enlarged copy of the poem nearby to assist them. This also gives them another way to check their work.
Once the poem has been completed in the pocket chart, have the children read it together several times. You can also ask children to highlight words that go along with the word principle you are working on. For instance, these students are using a fly swatter with a hole cut out of it and a pointer to locate consonant blends in the poem.
Presentation Board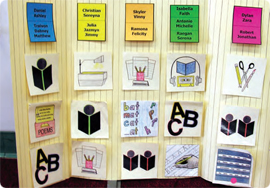 If you use a presentation board, you can take it out during center time and put it away when done.
Felt Board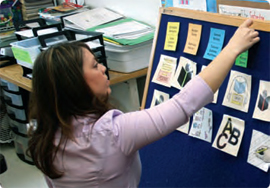 Velcro on the back of each icon allows it to stick to the board.
This is an excerpt from Literacy Centers in Photographs by Nikki Campo-Stallone.