World War II Remembered
Learn about WWII through the stories of those who witnessed it firsthand.
Activity Type
Interactive Whiteboard Activities

"World War II Remembered" shares the events of the war through the stories of those who experienced them, offering students (grades 4–8) a unique perspective of this time. Eyewitness accounts of four significant wartime events are included: the story of Nazi Germany and Anne Frank, the attack on Pearl Harbor, life in America during wartime, and the atomic bombing of Hiroshima, Japan. An oral history writing activity is woven throughout the project.
In We Remember Anne Frank, students "meet" two heroic women who risked everything to help Anne Frank and her family. Students become familiar with terms and places associated with the Holocaust, and learn how the Nazis' rise to power impacted the lives of real people.
Students can read an eyewitness account of the bombing of Pearl Harbor on December 7, 1941. They use a timeline to study events surrounding the attack, and analyze the influence of geographic location on political events. Students also learn words and phrases associated with war.
The social changes that affected the American Home Front during World War II are examined. Betty Reilly discusses how women's roles changed and affected the workplace, and Japanese-American Norman Mineta discusses his boyhood experience as a victim of forced relocation. Students also can explore a typical American household during this era.
Students can browse a World War II Timeline of important dates and photos of the era. Using the resources from the project, students can add important information to this timeline.
While creating a World War II Memory Book, students interview a relative or community member about the war's impact on his or her life. Four research-based steps develop interviewing skills: finding a subject, preparing for the interview, interviewing the eyewitness, and writing an oral history.
Hiroshima: A Survivor's Story shares the factual account of Mitsuo Tomosawa, an eyewitness to the bombing of Hiroshima. Students respond to comprehension questions about the story and read a transcript of the student interview with the eyewitness.
Learning Objectives
In the course of participating in "World War II Remembered," students will:
Learn about World War II, its survivors, and the war's impact on daily life
Identify cause and effect relationships among wartime events
Draw conclusions about human behavior
Become familiar with war-related vocabulary
Improve content-area reading and writing skills
Keep a daily journal about personal reactions to historical events
Exchange topical information in peer discussions
Write an oral history
Become proficient with the interview process
Enhance knowledge of online research
Expand fluency of text structures, including maps, timelines, diaries, and interviews
Read nonfiction stories
Use technology skills to navigate interactive Web activities and find information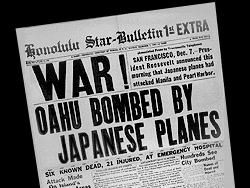 Lesson plans, assessments, extension activities, and other resources for using the "World War II Remembered" student activity in the classroom
Appears in This Collection