Solids, Liquids, and Gases: A StudyJams! Activity
Reinforce key concepts about the states of matter and keep students engaged with this interactive StudyJams! Activity.
Activity Type
Computer Lab Activities
Interactive Whiteboard Activities

What is matter? Scholastic's "Study Jams: Solids, Liquids & Gases," for grades 3–5, uses an engaging three-minute animated video to explain how matter changes states through heating or cooling.
Students can also:
Sing karaoke (music and lyrics are provide) about matter
Take a multiple-choice quiz on what they've learned
Consult a list of related vocabulary words.
Learning Objectives
Students participating in Solids, Liquids & Gases will:
Recognize that matter has three forms: solid, liquid, and gas
Demonstrate understanding that each state of matter has distinct properties
Explain the role of heat in changing matter from one property to another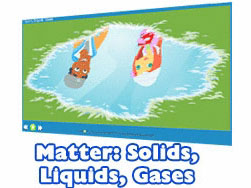 In this lesson, use a three-minute animated video about the states of matter to help reinforce key concepts and keep students engaged in the learning process.