Max's Fantastical Zoo: A Max's Math Adventures Activity
After reading (and listening to) a fun, rhyming poem about unusual zoo creatures, early learners draw and write about one of the animals.
Fantastical crawlers and creepers reign in "Max's Fantastical Zoo" (grades K–2), a fun, rhyming poem with audio that students can listen and follow along to.
Each fantastical animal in the zoo is based on a shape. In this learning activity, students practice their shapes by drawing one of the animals, using the shapes on the Activity Page for help. They must also write about what their animal looks like.
Plus, students can play more with shapes with these three Extra Challenges of varying difficulties.
Learning Objectives
By participating in "Max's Fantastical Zoo", students will:
Math (NCTM Standards)
Recognize differences in shapes
Language Arts (NCTE Standards)
Students apply a wide range of strategies to comprehend, interpret, evaluate, and appreciate texts. They draw on their prior experience, their interactions with other readers and writers, their knowledge of word meaning and of other texts, their word identification strategies, and their understanding of textual features (e.g., sound-letter correspondence, sentence structure, context, graphics).
Students employ a wide range of strategies as they write and use different writing process elements appropriately to communicate with different audiences for a variety of purposes.
Students apply knowledge of language structure, language conventions (e.g., spelling and punctuation), media techniques, figurative language, and genre to create, critique, and discuss print and nonprint.
Students use a variety of technological and informational resources (e.g., libraries, databases, computer networks, video) to gather and synthesize information and to create and communicate knowledge.
Students use spoken, written, and visual language to accomplish their own purposes (e.g., for learning, enjoyment, persuasion, and the exchange of information).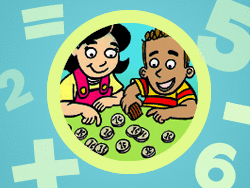 Math and language arts game created specifically for students in grades K–2. Each adventure focuses on one math skill integral to the K–2 math curriculum.