The Case of the Troublesome Triplets: A Math Maven's Mysteries Activity
Which triplet stole $100? Students use their money and decimals skills — and a little creative thinking — to crack the case!
This learning activity challenges students to solve a mystery by understanding money and decimals. Students read the story, solve the problem, and answer the question, using clues embedded in the story to understand what money was spent where.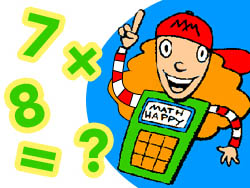 Math mystery games, each with a focuses on a particular area of math reasoning and computation. Requires students to use creative thinking.