Leo the Letter-Loving Lobster: A Building Language for Literacy Activity
In this fun, interactive activity, Leo the Letter-Loving Lobster asks young students to match letters, helping them develop language skills.
Activity Type
Computer Lab Activities
Interactive Whiteboard Activities

Leo the Letter-Loving Lobster, part of the Building Language for Literacy series, makes learning fun! Young students (Pre–K) match letters while playing an engaging interactive activity – they become familiar with not only the shape of letters, but the connection between letters and the sounds they make.
Plus, before starting to play, students must choose a setting from the child's home or community, which helps them get a sense of the world around them.
Learning Objectives
By playing Leo the Letter-Loving Lobster, children will:
Develop vocabulary skills
Distinguish different word sounds
Recognize letter shapes and sounds
Enhance their understanding of the community around them
Learn to follow oral directions
Learn to categorize familiar objects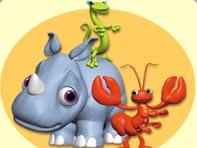 A teacher's guide for using the Building Language for Literacy Student Activity, an early literacy program that equips young children with critical language and literacy skills