Integrating Central High: The Melba Pattillo Story
Through reading and writing activities, students relive Melba Pattillo's historic, scary experience as one of the Little Rock Nine.

In "Integrating Central High: The Melba Pattillo Story" (grades 5 and up), which is part of the Black History in America student activity, students participate in reading and writing activities to learn about Melba Pattillo, who was part of the Little Rock Nine — the first African-American students to integrate into an all-white high school in Little Rock, Arkansas in 1957. Throughout the articles, students can click on links to other websites for further reading on the subject.
Learning Objectives
By participating in The Melba Pattillo Story, students will:
Gain insight into African-American history during the civil rights movement
Learn about individual people who shaped history by reading their biographies and researching the age in which they lived
Understand the causes and effects of the civil rights movement in America
Hone writing skills through brief essay submissions or grade-appropriate research papers

Students learn about instrumental figures in the civil rights movement, such as Melba Pattillo.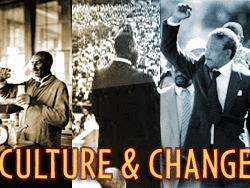 Appears in These Collections