Inkheart: A Flashlight Readers Activity
Fans of the popular book by Cornelia Funke will love these fun, visually appealing online activities that bring the story to life.
Activity Type
Interactive Whiteboard Activities
Book Resources
Ever read a book and wanted more? "Explore Inkheart," an online literary experience from Flashlight Readers, lets fans of the Cornelia Funke book go inside their favorite read.
Students can:
Learning Objectives
While participating in "Flashlight Readers," students will:
Offer observations, make connections, react, speculate, interpret, and raise questions in response to text
Identify and discuss book themes, characters, plots, and settings
Connect their experiences with those of the author and/or with characters from the books
Support predictions, interpretations, conclusions, etc. with examples from text
Practice key reading skills and strategies (cause-and-effect, problem/solution, compare-and-contrast, summarizing, etc.)
Monitor their own comprehension

Benchmarks for Inkheart Flashlight Readers Lesson Plans
Language Arts (McRel)
Prewriting: uses prewriting strategies to plan written work (e.g., uses graphic organizers, story maps, and webs; groups related ideas; takes notes; brainstorms ideas; organizes information according to type and purpose of writing)
Evaluates own and others' writing (e.g., determines the best features of a piece of writing, determines how own writing achieves its purposes, asks for feedback, responds to classmates' writing)
Uses strategies (e.g., adapts focus, organization, point of view; determines knowledge and interests of audience) to write for different audiences (e.g., self, peers, teachers, adults)
Lesson 2: Building Believable Characters
Uses descriptive language that clarifies and enhances ideas (e.g., establishes tone and mood, uses figurative language, uses sensory images and comparisons, uses a thesaurus to choose effective wording)
Uses appropriate verbal and nonverbal techniques for oral presentations (e.g., inflection/modulation of voice, tempo, word choice, grammar, feeling, expression, tone, volume, enunciation, physical gestures, body movement, eye contact, posture)
Understands elements of character development (e.g., character traits and motivations; stereotypes; relationships between character and plot development; development of characters through their words, speech patterns, thoughts, actions, narrator's description, and interaction with other characters; how motivations are revealed)
Lesson 3: Getting Ready to Write
Uses a variety of resource materials to gather information for research topics (e.g., magazines, newspapers, dictionaries, schedules, journals, phone directories, globes, atlases, almanacs, technological sources)
Organizes information and ideas from multiple sources in systematic ways (e.g., timelines, outlines, notes, graphic representations)
Prewriting: uses a variety of prewriting strategies (e.g., makes outlines, uses published pieces as writing models, constructs critical standards, brainstorms, builds background knowledge)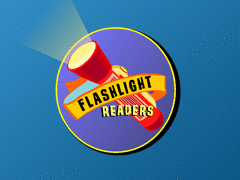 Use this guide to help plan lessons around highly-taught books and their corresponding Flashlight Readers activities.