The Halloween Tooth: A Max's Math Adventure
Practice patterns with Max's Halloween candy challenge.
Activity Type
Interactive Whiteboard Activities

In "The Tooth" (grades K–2), a learning activity from Scholastic's Max's Math Adventures series, students first read a fun, rhyming poem (with audio) about Halloween candy.
Next, they must complete this activity page by making a pattern of candy objects.
Finally, students can complete four Extra Challenges of varying difficulty levels: two challenges about making patterns, one about counting, and one about probability.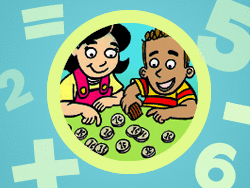 Math and language arts game created specifically for students in grades K–2. Each adventure focuses on one math skill integral to the K–2 math curriculum.
Appears in These Collections