Global Trek: Virtual Travel Around the World
Students can travel the world from Afghanistan to Zimbabwe without leaving the classroom, learning about the country of their choice and "meeting" the locals.
Suitable for grades 4–8, "Global Trek" offers students a unique, fun opportunity to "tour" a foreign country with help from our itineraries, which feature background information and details about the local people.
Learning Objectives
Scholastic's Global Trek is designed to support the teaching of standards-based skills. Depending on how much time students spend in the course of participating in Global Trek, students will:
Investigate people, places, and environments
Use technological resources to gather information about the country and culture that they visit
Study global connections and interdependence by reading online text in order to meet the people of the country they visit
Gather, evaluate, and synthesize data by participating in the Suggested Itinerary Tours
Generate ideas and questions about issues and interests by interacting with Tim Kent in the Around Alone race
Use Classport technology to collaborate and communicate with students around the globe
Use written and visual language to communicate their experiences, thoughts, feelings, collect pictures and write captions about the memorable moments of their travels
Demonstrate an understanding of the countries and people they visited by completing the Write About It and Global Postcard sections of Global Trek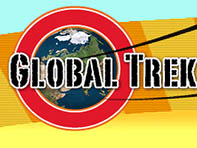 Students travel to countries around the world without ever having to leave their classroom.