Determine the Missing Operation: A StudyJams! Activity
An engaging, animated video shares with students a step-by-step tutorial for finding the missing operation in an equation.
Activity Type
Computer Lab Activities
Interactive Whiteboard Activities

For grades 3–5, Scholastic's "StudyJams: Determine the Missing Operation" animated video walks students through equations to familiarize them with operator symbols, how they're used, and how to find missing operations in equations. Students can take a multiple-choice quiz on what they've learned. They can also read a list of related vocabulary words.
Learning Objectives
Students participating in Determine the Missing Operation will:
Demonstrate understanding of increasing and decreasing power of operators
Test strategy to determine missing operations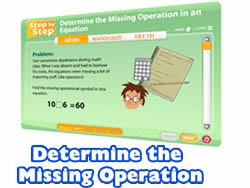 Comprehending the concept of operators can be difficult for students. This lesson uses a variety of approaches including a web-based tutorial, real-world context, and working in cooperative groups.