Create a WWII Memory Book: A World War II Remembered Activity
Students get a close, personal view of WWII by interviewing someone about their experience in the war, then writing his or her oral history.
Part of Scholastic's World War II Remembered project, the "Create a WWII Memory Book" activity (grades 4–8) makes this historic event personal for students. What was it like to be a soldier who fought the battles? Or a student on her way to school while the war was going on? Students interview a relative or community member about the war's impact on his or her life and write an oral history based on their research.
Publish a WWII Memory: This 7-step writing workshop helps students through the interviewing and writing process.
Step 1: Mini-Lesson: Students practice using quotation marks, necessary for writing an oral history.
Step 2: Prewrite: Students learn how to choose someone to interview, prepare for the interview, and conduct it.
Step 3: Draft: Now, they're ready to organize their work and get their thoughts down on paper.
Step 4: Revise: Students get tips on how to improve their work.
Step 5: Edit: They check capitalization, organization, punctuation, and spelling and sentences.
Step 6: Review: It's time for one final review of their work.
Step 7: Publish: Students can publish their work to Scholastic.com, read dozens of other oral histories, and celebrate what they've accomplished!
Students can also Read WWII Memories written by other students for inspiration.
Learning Objectives
While participating in the "Create a WWI Memory Book" activity, students will:
Learn about World War II and the war's impact on daily life
Write an oral history
Become proficient with the interview process
Use technology skills to navigate interactive Web activities and find information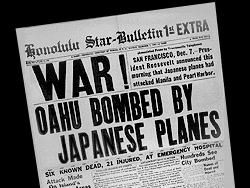 Lesson plans, assessments, extension activities, and other resources for using the "World War II Remembered" student activity in the classroom