China: A Global Trek Activity
Through various online activities, students get to "tour"€ China and learn about its history, culture, and its people.
The Global Trek series takes students on a virtual trip around the world, where they can learn about foreign countries through various online activities. In China: A Global Trek Activity (grades 4–8), students visit China, an exotic country that is home to the oldest civilization in the world.
Learning Objectives
While "touring" China, students will:
Investigate people, places, and environments.
Use technological resources to gather information about the country and culture that they visit.
Study global connections and interdependence by reading online text in order to meet the people of the country they visit.
Use written and visual language to communicate their experiences, thoughts, feelings, collect pictures and write captions about the memorable moments of their travels.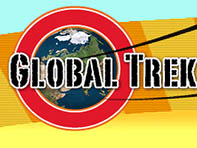 Students travel to countries around the world without ever having to leave their classroom.