Chasing Vermeer: A Flashlight Readers Activity
This innovative online experience offers activities related to Chasing Vermeer and author Blue Balliett that fans will love, from author chats to slideshows.
Activity Type
Interactive Whiteboard Activities
Book Resources

Explore Chasing Vermeer, a Flashlight Readers interactive literacy experience about the novel and author Blue Balliett, brings Chasing Vermeer and other popular books by Blue Balliett to life.
Students can:
Learning Objectives
While participating in Flashlight Readers activities, students will:
Offer observations, make connections, react, speculate, interpret, and raise questions in response to text
Identify and discuss book themes, characters, plots, and settings
Connect their experiences with those of the author and/or with characters from the books
Support predictions, interpretations, conclusions, etc. with examples from text
Practice key reading skills and strategies (cause-and-effect, problem/solution, compare-and-contrast, summarizing, etc.)
Monitor their own comprehension
Discuss ideas from the book with you, the author, and/or other students online
Benchmarks for Blue Balliett Flashlight Readers Lesson Plans
Lesson 1: Picture the Process! Lesson Plan
Language Arts Standards (4th Ed.)

Develops the topic with simple facts
Organizes details chronologically
Uses technology to create and publish written work

Working With Others

Participates in a variety of group and individual activities
Provides feedback in a constructive manner and recognizes the importance of seeking and receiving constructive feedback in a non-defensive manner

Technology

Applies technology to compose and publish written work
Lesson 2: Do You See What I See? Lesson Plan
Language Arts

Understands reasons for varied interpretations of visual media
Uses reading skills and strategies to understand a variety of informational texts
Uses new information to adjust and extend personal knowledge base

Art Connections

Knows the similarities and differences in the meanings of common terms used in the various arts (e.g., form, line, contrast)
Lesson 3: Patterns and Pentominoes Lesson Plan
Mathematics

Uses a variety of strategies to understand problem situations

Thinking and Reasoning

Tests a hypothesis, throws out an unsuccessful hypothesis, and formulates a new hypothesis
Selects criteria or rules for category membership that are relevant and important

Working With Others

Works cooperatively within a group to complete tasks, achieve goals, and solve problems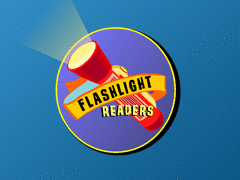 Use this guide to help plan lessons around highly-taught books and their corresponding Flashlight Readers activities.