Character Scrapbook
Use this fun interactive activity to help students analyze characters in any book and create scrapbook pages they can print.
Activity Type
Writing Activities
Computer Lab Activities
Interactive Whiteboard Activities
The interactive Character Scrapbook is a great way to engage students and help them form a deeper understanding of a book's characters. It works with almost any fiction or nonfiction book, and can be used individually or as a whole class.
On one side of the scrapbook, students will create an image of the character, including animal characters, by simply clicking or dragging their mouse to create features.
Students can also print a blank version to draw their character from scratch.
On the other side of the scrapbook, students will identify and list important character traits by using the arrows to click through various themes such as "Ten Challenges [the character] Faced" and "Ten Words That Describe [the character]" and typing in details about the characters they chose.
Learning Objectives
While participating in the Character Scrapbook project, students become proficient with several standards-based skills.
Discuss and identify different types of character traits for characters in a fiction or nonfiction book
Generate lists of traits about a specific character in a book that the class or student is reading
Create a scrapbook featuring a personalized image and character traits of the character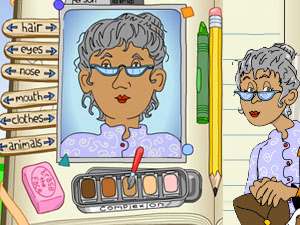 Students can use the Character Scrapbook activity to analyze characters and create and print a scrapbook. This teaching guide supports the Character Scrapbook activity for use with any book.
---
GRADES
PreK–K,
1–2,
3–5,
6–8
Appears in This Collection