Celebrate Winter Holidays
Students explore three fun interactive scrapbooks to learn the history and traditions behind Christmas, Hanukkah, and Kwanzaa.
Activity Type
Interactive Whiteboard Activities

"Celebrate Winter Holidays" allows students to explore Christmas, Hanukkah, and Kwanzaa through engaging interactive scrapbooks. Articles, slideshows, and free printable activities give students a history lesson, let them connect with cultures around the world, and test their reading skills.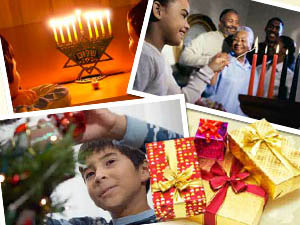 These lessons will help your students learn about Christmas, Hanukkah, Kwanzaa, and other holidays around the world through the Celebrate Winter Holidays multimedia activity.