The Case of the Mysterious Money Trail: A Math Maven's Mysteries Activity
There's a counterfeiter on the loose! To locate her next stop and crack the case, super-sleuth students analyze number patterns.
In "The Case of the Mysterious Money Trail" (grades 3–5) – one of the Math Maven's Mysteries – students learn number patterns to stop a counterfeiter in her tracks.
First, students read (and, with audio, listen to) the details of the case. Pat Terns is spending phony money all over town, and it's been suspected that she'll deposit her bogus bills into one of four branches of Cashflow Bank around town. But which one? By recounting her trail — from 64th Street to 49th Street to 36th Street to 25th Street — students can figure out her pattern and learn which bank location she'll stop at next.
Learning Objectives
By participating in Math Maven's Mysteries, students will:
Use problem-solving and critical thinking skills
Apply math skills in an authentic situation
Practice reading skills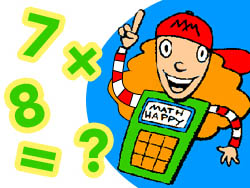 Math mystery games, each with a focuses on a particular area of math reasoning and computation. Requires students to use creative thinking.