Beekman's Ice Cream Shop: A Max's Math Adventures Activity
Do Max and Ruthie have enough money to buy a Slushie? Early learners put their money and addition skills to the test to find out.
In the "Beekman's Ice Cream Shop" learning activity (grades K–2) — one of Max's Math Adventures — students learn that Max and Ruthie like to buy treats, but sometimes need help counting up their money.
Using the coins illustrated on an Activity Page, early learners must calculate if they have enough change to buy a $1 Slushie.
For more counting fun, students can also try these three Extra Challenges of varying difficulties.
Learning Objectives
By participating in Max's Math Adventures, students will:
Apply math skills to solve problems.
Find mathematical problems in everyday situations.
Relate everyday language to mathematical problems and symbols.
Use creative thinking and math skills to figure out the solution.
Use an interactive online form.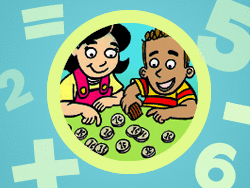 Math and language arts game created specifically for students in grades K–2. Each adventure focuses on one math skill integral to the K–2 math curriculum.