Because of Winn-Dixie: A Flashlight Readers Activity
This fun, visually appealing online hub brings the book to life with Because of Winn-Dixie–related activities and exclusive content about the author.
Activity Type
Interactive Whiteboard Activities
Book Resources
The Explore Because of Winn-Dixie interactive hub, part of the Flashlight Readers experience, lets fans of Because of Winn-Dixie go inside their favorite read!
Students can:
Learning Objectives
While participating in Flashlight Readers activities, students will:
Offer observations, make connections, react, speculate, interpret, and raise questions in response to text
Identify and discuss book themes, characters, plots, and settings
Connect their experiences with those of the author and/or with characters from the books
Support predictions, interpretations, conclusions, etc. with examples from text
Practice key reading skills and strategies (cause-and-effect, problem/solution, compare-and-contrast, summarizing, etc.)
Monitor their own comprehension
Benchmarks for Because of Winn-Dixie Lesson Plans
Language Arts Standards (4th Ed.)
Lesson 1: Because of Winn-Dixie Scrapbook Lesson Plan
Understands elements of character development in literary works (e.g., differences between main and minor characters; stereotypical characters as opposed to fully developed characters; changes that characters undergo; the importance of a character's actions, motives, and appearance to plot and theme)
Makes connections between characters or simple events in a literary work and people or events in his or her own life
Lesson 2: Stump the Dump Maze Game Lesson Plan
Understands the basic concept of plot (e.g., main problem, conflict, resolution, cause-and-effect)
Applies basic trouble shooting and problem-solving techniques
Lesson 3: About the Author: Kate DiCamillo Lesson Plan
Drafting and revising: uses strategies to draft and revise written work (e.g., elaborates on a central idea; writes with attention to audience, word choice, sentence variation; uses paragraphs to develop separate ideas; produces multiple drafts)
Evaluates own and others' writing (e.g., determines the best features of a piece of writing, determines how own writing achieves its purposes, asks for feedback, responds to classmates' writing)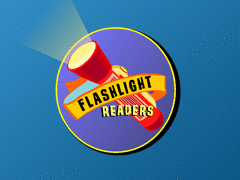 Use this guide to help plan lessons around highly-taught books and their corresponding Flashlight Readers activities.
Appears in This Collection
Collection
Teaching With Because of Winn-Dixie
Get discussion questions, extension activities, vocabulary lists, and more ideas for teaching with Because of Winn-Dixie by Kate DiCamillo.