Storia ebooks are now available in a streaming model
With the recent launch of Storia School Edition, Scholastic is currently transitioning to a streaming model for children's eBook delivery. Our streaming service for families will be available in 2015.
Using the Storia
e

Reading
app is about to change

The switch to streaming means that eBooks you've previously purchased may soon no longer be accessible.
YOU MUST STAY LOGGED IN FOR CONTINUED ACCESS TO EBOOKS
You may be able to continue using your downloaded eBooks by making sure to remain logged in to Storia. Logging out of Storia will end access to any eBooks downloaded to your bookshelf through the eReading app.

To get your refund

Upon your request, we will refund the
cost of all Storia eBooks you've purchased.
Call Customer Service at 1-855-STORIA1
by August 1, 2015.
Interested in Storia School Edition for your school? Learn More >
Verizon Customers can
SAVE 20%
at Scholastic Store Online with code
STR20
►
State Curriculum Standards
Select your state from the list below to learn about the academic standards
A Customizable eBook Library
to Support Every Teacher's Needs!
Teachers can easily personalize their own classroom library from the 2,000 eBooks available.
Selected eBooks can be assigned at the class, group, or individual student level for differentiated instruction.
Themed collections can be created from the full subscription library that include both fiction and nonfiction titles.
Assign eBooks & Share Collections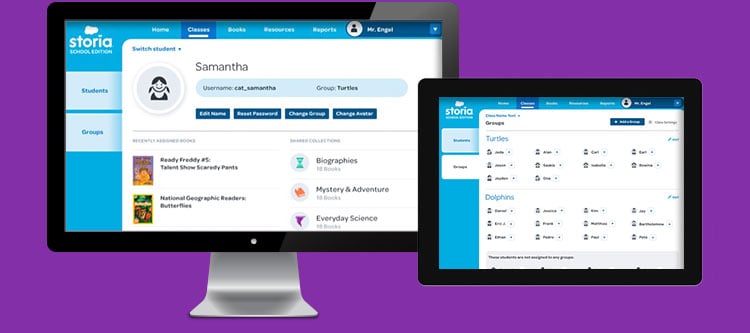 3 Ways to Share eBooks
Individual Students
Reading Groups
Whole Class
A Record of Reading Progress
Reading Reports detail the minutes students spend reading, the titles they've read, and words they looked up.
Customizable reports track reading group, full class, and eBook titles.
Reading Challenge Quizzes gauge student comprehension levels.
Help Extend eBook Access
Try these 3 steps for continuing use of Storia eBooks:
Remain signed in to the Storia eReading App.
Download all of your eBooks and assign them to a bookshelf.
Open each book at least once, so they are saved.
In addition, we will refund your Storia eBooks purchased with dollars, or reinstate
your Scholastic Reading Club Bonus Points if you redeemed points to purchase ebooks. Call 1-855-STORIA1 by August 1, 2015 and customer service will be happy to assist you.