NEW! Book Four: The Raven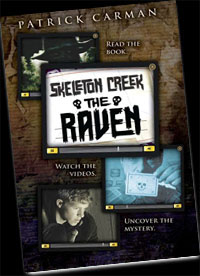 Strange things happen in Skeleton Creek - and when they do, Ryan writes them down and Sarah captures them on video. They've solved old mysteries. They've followed clues all over the country and underground. They've investigated secret societies. They've found their answers.
Or so they thought. Because there are still some secrets that Ryan and Sarah haven't uncovered yet. And there's still a shadowy figure standing in their path...someone who doesn't want Ryan and Sarah digging up any more of the past.