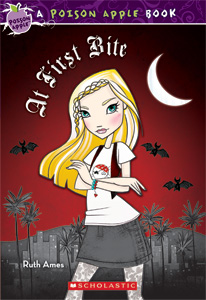 At First Bite
Ashlee Lambert, the queen bee from This Totally Bites!, is back in her own book! Ashlee's family has moved from New York to L.A., which she is not happy about. Having to make a new group of friends is bad enough, but Ashlee also has to deal with the fact that she's a vampire! Keeping this secret is tough, and the popular girls at school aren't making it any easier. When rumors start that there's a vampire in the student's midst, Ashlee doesn't know what to do. Will she use her vampire powers for good...or evil?
The Dead End
Casey Slater can't believe her bad luck. It's the summer before seventh grade, and instead of the perfect vacation she'd planned with her best friend, Casey is in a remote country town, where her parents are restoring an old, creaky, creepy house. Worst of all, everyone else in town thinks the old house is haunted. And soon Casey thinks so, too -- a vase explodes, a heavy china cabinet falls over on its own -- and it seems like the ghost doesn't want them there. Casey thought she'd be dying of boredom, but now she's scared to death!
This Totally Bites!
Twelve-year-old Emma-Rose Paley has always felt different from her bubbly, outgoing parents. Unlike them, Emma-Rose has pale skin and jet-black hair, is quiet and moody, and prefers gray weather to sunshine. She also hates the taste of garlic, has very sharp incisors, and loves rare burgers. When Emma-Rose uncovers a dark family secret, she has a sudden revelation. Could Emma-Rose be a real, live vampire?