If you're looking for something pretty to hang in a window at home or in your classroom this winter, check out the easy instructions below on how you and your child can make these snowflake-inspired shades.
While people might not be quick to associate sunshine with winter (gray, cloudy skies and white snow might come to mind more quickly for some), the winter sun can actually be quite strong — perhaps even stronger streaming in through your windows. To help shade the light, our friends over at the Eric Carle Museum have created various crafty shades to hang in the windows. This wintry window dressing is just one of the many great ideas they have. For more ideas, see their tutorials for a Ribbon Shade, a Plastic Cap Screen, and Rainbow Window Shades.

What you need:
White paper (we used 8.5" x 11" copy paper in this example)
Scissors (we also used an X-ACTO knife, but this is optional)
Hole puncher
Tracing paper
Binder sleeves
Binder rings (we used 1" or 3/4" binder rings)
Standard tension curtain rod that fits your window
What to do:

First, use the scissors, X-ACTO blade, and hole puncher to create designs by folding up pieces of 8.5" x 11" copy paper or drawing paper and cutting out shapes and holes. The X-ACTO knife is a sharp and open blade, so while younger children might not be ready to use it, older children might enjoy the challenge of using a new tool. If your child is too young to manage scissors, the hole puncher is a good option to have so everyone can participate.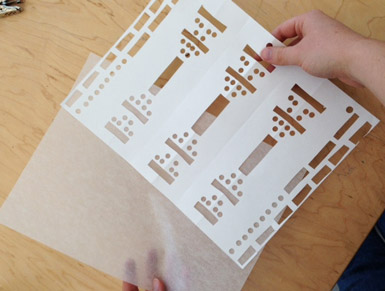 Next, pair your finished designs with a sheet of tracing paper each. The tracing paper should be the same same size as the design. Its frosty finish will help diffuse the sunlight. You can buy tracing paper in sheets or on a roll at an art supply store.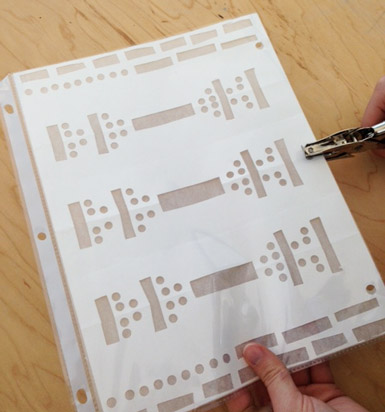 Sandwich each tracing paper and cut-paper design pair in a binder sleeve. Use the hole puncher to make 3 holes along the bottom of the sleeve. These should line up with the 3 lines at the top of the sleeve; they'll be used to link the sheets together to form the shade. You don't need to punch holes in the sheet that will be at the bottom.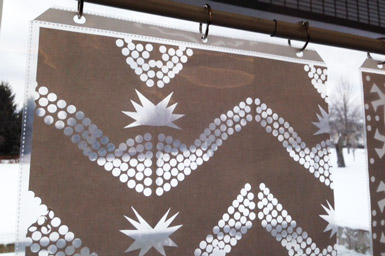 Connect the sleeves together to make vertical panels using the binder rings.
 


String the sheets onto the curtain rod. We make our shades 4 sheets long, but feel free to make yours as long as you wish.

Hopefully, not only will this project give a little winter inspiration for your sunny space, but it will also provide a fun creative activity for you and your child!