As I walked the aisles of Toy Fair 2013, several toys jumped out at me as engaging ways to teach kids new concepts, from music and storytelling to science and robotics.
One of my favorite booths at Toy Fair was Little Bits, maker of super easy, snap-together circuitry sets. You only need the most cursory knowledge of electronics to help your kids piece together their first circuits, and the Little Bits online community will keep you in an endless supply of activity ideas.
Storymatic Kids offers up a deck of 360 cards that prompts storytelling. You can use cards to get a story rolling as a group or as a personal creative activity.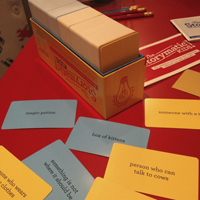 There were lots of marble runs at Toy Fair, but I loved the contraption set by
Keva Planks
. Its open-ended building promotes exploration of physics. You can also get new catapult and wrecking ball sets to build, destroy, and build again.
We love the game Set in our house, but it's hard for our 8-year-old to win against mom and dad. The new Set Junior levels the playing field for younger kids, and offers a few different ways to play for a growing challenge of finding similarities among the different cards.
I don't play guitar, but the build-your-own instruments from Loog make me want to. Kids can put together their own instrument and learn to play a simplified version of guitar on this three-stringed beauty.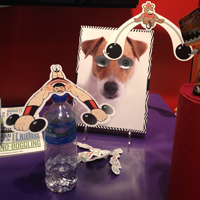 The Klutz booth is always full of amazing projects for kids and it's my go-to source for birthday presents. One of the new sets that caught my eye is The Book of Impossible Objects, full of activities showing how optical illusions work.
Goldie Blox was designed with girls in mind. The combination of a storybook, ribbons, and building toys aims to get your daughters to become future engineers.
If you need to graduate to a bigger engineering challenge, Lego Mindstorms is back and better than ever with Lego Mindstorms EV3, featuring more memory, a larger processor, an infrared sensor, and a USB port. Don't let all that scare you off if you're not a robotics expert–it also has streamlined usability to allow for more entry-level users.