I love to offer this exploration with toddlers and preschoolers, but anyone who likes to tinker and construct will have fun with this collection of found objects and craft materials. This activity is great for developing imagination as well as your child's hands' small muscles.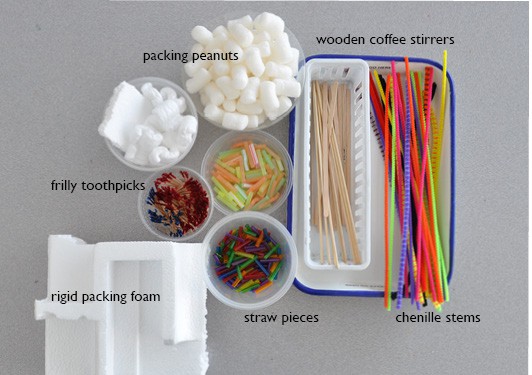 To begin, gather as many of these materials you have into clear containers to prepare for this construction experiment:
rigid packing foam
packing peanuts
wooden coffee stirrers
small pieces of drinking straws (you could skip these if they pose a choking hazard for your children)
chenille stems (pipe cleaners)
plain and/or frilled toothpicks.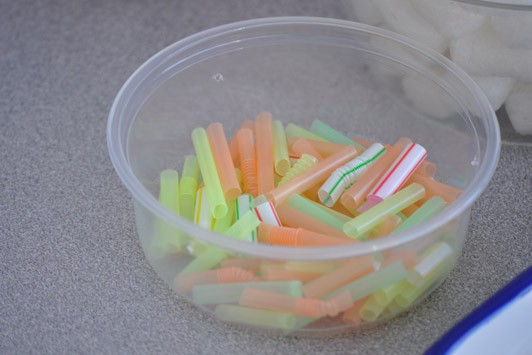 I don't offer kids much in the way of instructions or steps. Instead, I'll usually ask "What can you make with these materials?" and let the children's imagination lead them.

Depending on the child's age, I might wordlessly poke the foam with a toothpick or chenille stem and slide a straw over it while the child watches, but that's about it. This arts & crafts project is really about playing and experimenting.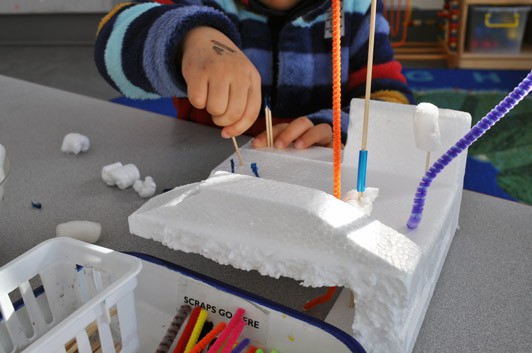 The children's constructions often remind me of whimsical playgrounds, fanciful gardens or extra-terrestrial landscapes. And the children's stories about their constructions are often filled with many details.
As your children gain a familiarity or develop a "language" with these materials, ask them what objects they'd like to add to the mix and let them experiment. They'll come up with some great ideas!