I wanted to share some pictures that were captured in a few recent sessions of our last Friday morning Materials Play for Toddlers series in the Studio at The Carle.
Pictured to the left: marbles, tempera paint, liquid watercolor paint, and black construction paper placed in the bottom of a plastic paper tray.
Below, paper circles, cookie tins, tempera and liquid water color paint. Shake, rattle, and roll! Safety Note: If marbles are a choking hazard, try golf balls or ping pong balls instead.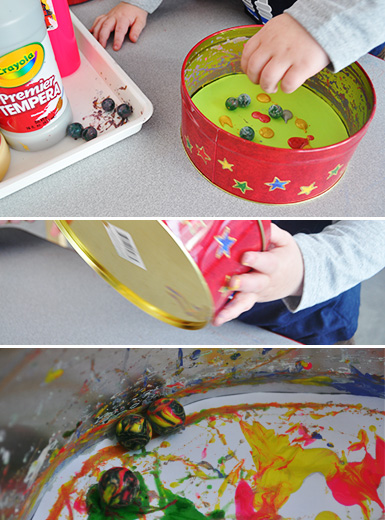 Below: plexi mirrors, washable markers, water-soluble oil pastels, and wide cups of water and brushes.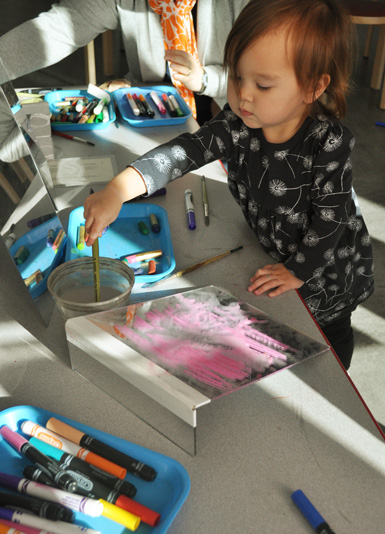 Truck Printing! Tempera squeezed into trays, toy cars, and rolling stampers all rolled on top of black paper taped to the floor in the shape of a road. Secondary colors (violet, green, and orange) chosen so that the mixture of the three would resemble mud.)
A buffet of beautiful ingredients: colorful paper dot confetti, raffia snipped to smithereens, reflective plastic Easter grass, plastic newspaper bag shreds, white feathers, yarn scraps, clementines box mesh, (in other words, all the bits we had laying around)…
…pressed and sprinkled onto contact paper (paper frame attached first). This is my own sun catcher experiment. My guest's compositions were less ordered, more spontaneous.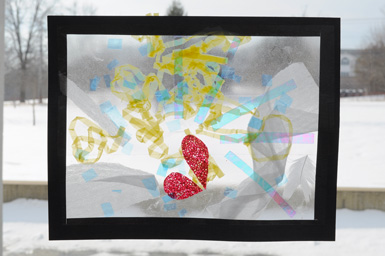 I hope this inspired some experimentation and creative fun with your toddlers! Happy mess-making!