Want a great way to get your kids into LOVING history? Check out The 39 Clues and The 39 Clues: Cahills vs. Vespers book series.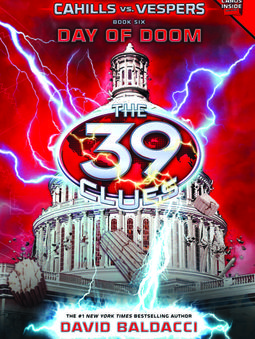 Both of my boys couldn't put them down. Adventures with Amy and Dan Cahill will take your kids all over the world and get them asking questions and looking up information on history, monuments, historical figures and more as they try to solve the clues -- without you ever mentioning history lessons! 
What we're really looking forward to this week in my house, and at Scholastic , is a virtual field trip like no other. Bestselling author David Baldacci, author of The 39 Clues®: Cahills vs. Vespers: Day of Doom, the latest title in the bestselling Scholastic series The 39 Clues™, leads a free virtual field trip to the Smithsonian's National Museum of American History in Washington, D.C.and will explore some of American history's greatest mysteries. You can go on this trip whenever you want -- perfect for a snow day or weekend afternoon!
Get behind-the-scenes tours and insights into some of the coolest artifacts in the Smithsonian's national collections:
What is the message inside Abraham Lincoln's pocket watch?
What does the hidden letter on the original Star-Spangled Banner flag mean?
Why is a poem inscribed on a 19th century piece of pottery so important that it could have landed the potter, and his boss, in jail?
(I'm not giving away the answers!)
Meet renowned museum curators and explore some of the most mysterious moments in American history. This is also a great way to support the new "Speaking & Listening" Common Core Standards for English/Language Arts for your kids and have fun while doing it. If you can't make it to D.C., you can definitely still make it to the museum. 
Turn it into a fun event at home -- make popcorn, log on and get ready for a fantastic hunt through history!