Kids love "Show and Tell." They love drawing a picture for someone and telling the story about the picture. They love showing a toy and talking about it. They love telling about an adventure. They love making up stories. Encourage this in your child because it builds language skills and can help enhance early literacy. Develop your child's creativity through drawing, singing, and storytelling. Motivate her to tell her story: the more imaginative, the better. (Although it is still good to discuss the difference between things which are real and those which are embellished or imagined by asking questions like, "Did this really happen?" and "Is this a made-up story from your imagination?")
You may also want to talk with your child about how stories have a beginning, middle, and end. Ask questions like, "What happened first? Then what happened? What happened at the end?"
When looking for storytelling apps, look for apps that allow your child to record his voice or actions. Some apps allow taking a photo and recording your story for that photo. This can be a photo of your child's drawing on paper, a structure made of blocks, or even your child playing "dress-up." 
Imagine how excited your child will be to make pictures and hear himself talking about pictures, and how exciting it can be to share these creations with others.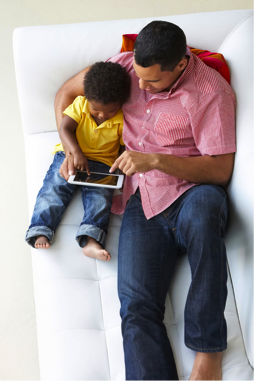 Ask your child questions like:
? "Tell me about this part of your picture."
? "What if you were there, would it feel cold? (or hot?)"
? "I wonder what would happen if it started to snow in your picture?"
? "Can you add me to your picture?" 
? "What else could they see there?" "What happened in the beginning?" "What else happened?"
? "How does your story end?"
Storytelling Apps
Collins Big Cat In the Garden Story Creator


After reading this interactive book together, you and your child can use Collins Big Cat in the Garden Story Creator to tell your own story. (Note: this is one of several free apps with built-in story creators by this publisher!)


With your child, choose a picture and record ideas, thoughts, and "wonderings" that come to mind. Ask your child questions and record her ideas, stories, or questions. You can even add your own prompts and photos. 
Don't Let the Pigeon Run This App!


Your child can make a silly story by making choices for parts in the story. Your little one's story will have everyone giggling. 


You and your child can give voice to a story using these electronic sock puppets. When your voices are played back in the story, the app will change them into squeaky character voices, a real treat for young AND older puppeteers! Maybe you and your child will even follow up with some more stories using REAL socks too.


Take a picture of anything (a person, a pet, or even a favorite toy or other object) and with a simple swipe of one finger add a mouth and then record up to 30 seconds of "story." Imagine what your child's favorite toy, pet, or even blanket might have to say!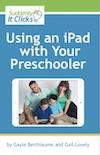 Tell about the stories you and your child create on the Scholastic Parents Facebook page, via email: Gail-­Gayle@SuddenlyitClicks.com, or Tweet us at @suddenlyclicks.