One Sunday afternoon, my twelve-year-old said to me, "Mom, can you help me with my nails? I can never do my left hand well." (She's my leftie.)
I told her I'd help her with her nails but only if we could totally bling them out with some nail charms. She looked at me a little funny, but she said she was game, so I quickly grabbed a new craft book from Klutz — Nail Charms — from our bookshelf.
Months ago, we had the pleasure of trying Klutz's Nail Art, and my tweens and their buddies loved it. The book taught them how to create simple but eye-catching designs on their nails using the polish that came with the book. The step-by-step directions made creating fabulous nails super easy. And when the girls were finished? They could simply peel off the polish and begin again with a new design.
The Nail Charms book is very similar, in that it includes easy-to-follow directions for creating rock-star nails, except this book totally takes nail design to the next level. Nail glaze, charms, mini pearls, gems, glitter, and nail tape are just some of the tools packed in the book to help your kids totally bling out their nails. (One important thing to note is that no polish comes with this book, so your readers will need their own base coat.)
Creating absolutely charming nails is this easy: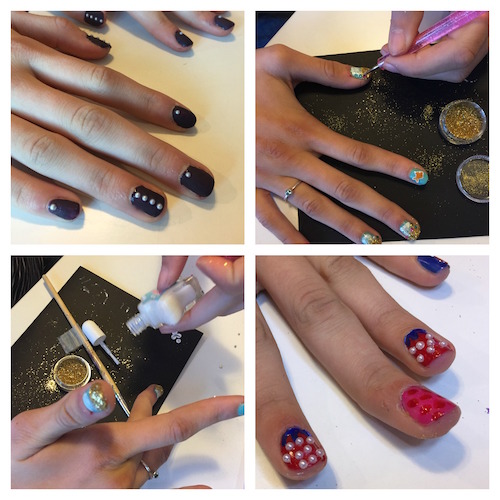 You put a base coat of nail polish on nails.
Add some charms and bling.
And bam! You've got charming nails!

Like all of Klutz's craft books, the directions in this book are easy to follow and contain photos or illustrations to support each step of the nail design process.

One thing that my tweens loved was the wide range of nail design ideas shared. Directions for creating space-inspired, fruit-inspired, animal-inspired, or beach-inspired nails are included, and that's just the beginning. The idea with "charming nails" is that every nail on your hand is different, so the possibilities for creativity and individuality are endless!
Whether your reader wants charming nails for New Year's Eve, or any day of the week, Nail Charms is definitely a must-have!
FYI: Amy Mascott was given the Nail Charms book to read and try with her children. It was a hit. All opinions belong solely to Amy Mascott and are influenced only by her experience as a parent and educator and her nail-designing tweens.

Check out bloggers Amy Mascott and Allie McDonald's book, Raising a Rock-Star Reader: 75 Quick Tips for Helping Your Child Develop a Lifelong Love for Reading. Get expert advice and learn new strategies for your young readers.

*One important thing to note with this book is that readers must use their own nail polish as a base coat; no polish comes with this book.