It's the middle of February, which means we're in the heart of winter. This is hardly news for most of the country, considering that many areas have already experienced more snow days than any full winter over the past five years!  Snow days and holidays from school can be a blast for kids and parents alike. This year, Adventure to Fitness has heard from lots of parents whose children have experienced their first snow days ever.  We've heard about the cheers as they waited by their televisions or radios for the school-closing announcements. We've also received fun notes about watching the snow fall outside, making snow angels, and building snowmen.

With that said, we've also heard how snow days can present major challenges for parents! By nature, school closings are often last minute. For many parents, that means they need to take time off work or find babysitters. On top of that, they suddenly have to develop plans for day(s).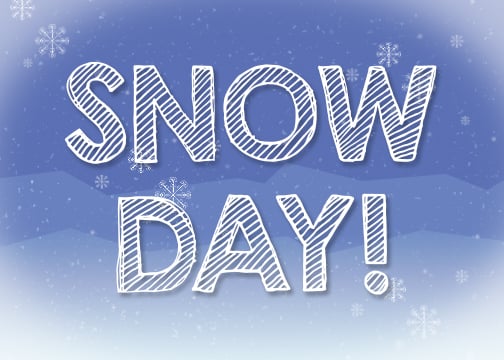 Photo Credit: Adventure to Fitness

I should add that parents aren't alone in this challenge. This is the same thing heard from thousands and thousands of teachers when school is in session but kids can't go outside (snow, rain, or extreme heat).
In my opinion – which has been formed from many discussions with medical, educational and child-development advisors – the key for parents is to keep children's minds and bodies active.  Countless medical studies suggest that part of the increase in childhood obesity can be linked directly to increased sedentary activities (e.g., passive TV or video games). Similarly, educators suggest that kids often return from breaks more sluggish due to erratic eating, combined with limited physical and mental activity. Of course, parents of young children don't need a behavioral expert to tell them that lack of activity tends to make kids "stir crazy," leading to fights with their siblings, sassing Mom & Dad, or crazy tantrums! Kids need to "get the wiggles out!"

Keeping kids active physically and mentally while they're indoors can be difficult, but it's important. We know kids love digital media, so rather than try to avoid it, let's use it for positive goals. For example, resources like Adventure to Fitness and others like it integrate digital media into their exercise-stimulating programs. When they take a 30-minute adventure, they're forced to run and jump along with the characters. Each episode takes them to a new location, such as China or Egypt, where they'll also learn geography, history, and new vocabulary words. They're also educated along the way on health and nutrition, so that they can learn and adopt these habits at early ages. Parents and kids then have access to supplemental activities such as healthy recipes and word games to reinforce the learning.
 



Photo Credit: Happy Being Healthy

While these programs are wonderful resources, parents don't need to rely on them to keep their kids active. Many, many opportunities exist to keep kids fit and help them learn when we're stuck inside. It's a great idea to vary them up and provide different options. Some ideas to get started include:

•    Dance Parties – Pick out a favorite song or two for the kids and let them create their own dance routines to perform.
•    Community Gym or Fitness Center – For those families that are able to brave the sleet and snow to travel.
•    Indoor Game of Hide-and-Seek – Fun and exciting way for kids to be creative and expand energy.
•    Indoor Forts – Kids love to build indoor forts, which is a nice alternative that requires movement and thinking.  

Remember, it's recommended that kids get a minimum of 60 minutes of physical activity per day…regardless of the weather outside! It's great if you can join in the activities, too. They can be fun experiences and studies show that kids will "model the behavior" of adults.

Beyond that, I'd love to hear your thoughts and suggestions for indoor activities!  Please share your thoughts on the Scholastic Parents Facebook Page for this article.  What have you done with your kids that you've found useful and that they've enjoyed?